Local
Is the MBTA ready for the snowstorm? We're about to find out.
It's time to see if the MBTA adequately put its money where its mouth is.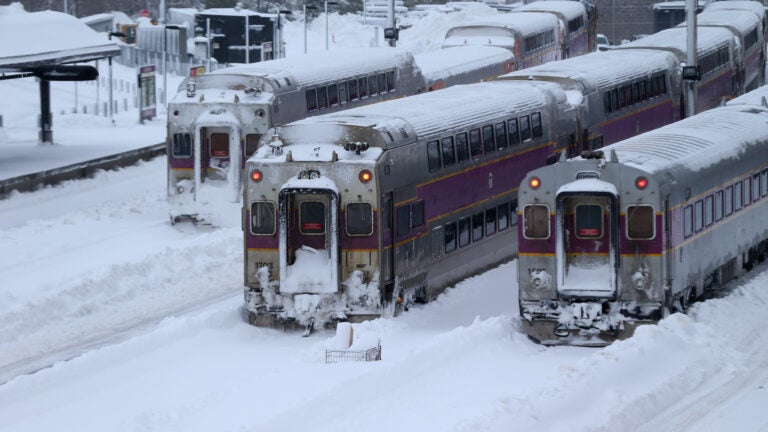 With the season's first significant weekday snowfall on its way, flashbacks of last winter are probably hitting consumers like a blizzard.
The T says things will be different this year after 2015 pummeled the Boston area with massive storms that severely disrupted public transit. In the aftermath, Gov. Charlie Baker announced an $83.7 million "winter resiliency'' plan.
Now it's time to put it to the test.
What's new?
• New electrified third rail has been installed on much of the T's Red Line, and new heating equipment and other infrastructure improvements were added to the Orange Line. The two lines were the most affected rapid transit routes during last year's storms.
• Snow plows have been attached to the front of some Red and Orange line trains. Better late than never.
• New "snow fighter'' machines have been brought in to better clear railways.
• The T has established new communications and operations desks to improve commuter alerts and deploy personnel.
• It also formalized a partnership that began last year with the Department of Corrections to pays inmates to dig out the system after storms.
How has the winter gone so far?
Boston has yet to see anything close to last winter's storms, but the T has faced a few early tests.
• Things went mostly smoothly during the winter's first dusting of snow in late December, with the exception of a frozen switch that was dealt with quickly. However, the T faced several infrastructure issues throughout the day unrelated to weather—a reminder that, for a system with a $7.3 billion repair backlog, problems can happen regardless of the season.
• An early January cold spell led to cascading delays and a derailed commuter train after freezing temperatures caused rail to break on the Red Line and the commuter rail. Officials said rail breakage is relatively common and defended the winter resiliency plan, claiming it allowed the T to quickly address the problems.
• During the relatively mild Winter Storm Jonas in late January, the MBTA—unlike transit agencies in other, more snow-battered cities along the East Coast—kept service running. The agency reported weather-related delays for bus routes during snowfall and a few other service issues throughout the day, but appeared to recover easily enough from the few inches of snowfall in Boston.
[fragment number=0]
• To prepare for Friday's snowfall, T crews plan to spread sand and salt at stations, clear entrances, and check on infrastructure. The T may also run trains to clear tracks overnight.
What are people saying?
• "People are going to judge me by whether or not the T works this winter.'' — Gov. Charlie Baker
• "I guarantee [a better winter]. Otherwise, he fires me.'' — MBTA General Manager Frank DePaola, looking at Baker
• "I want people to understand that being prepared for winter does not mean that there will be no service disruptions whatsoever.'' — Transportation Secretary Stephanie Pollack
• "I feel bad for the first few snowflakes.'' — MBTA Senior Director of Vehicle Maintenance Steve Hicks
• "I'm reasonably confident that the T is more ready to face this winter than last winter, and I give a lot of credit to the T and Governor Baker. But clearly we have problems that are much bigger than that.'' — Transit advocate Charlie Ticotsky
• "Yes it is.'' — 37 percent of Boston residents, when asked whether they think the T is prepared to handle another winter like last year's, according to a MassInc Polling Group survey. Fifty-four percent said no.
Photos: Another look at last year's problems
[bdc-gallery id="141492″]