Local News
President Obama quotes 'friend of mine' Deval Patrick, this time with credit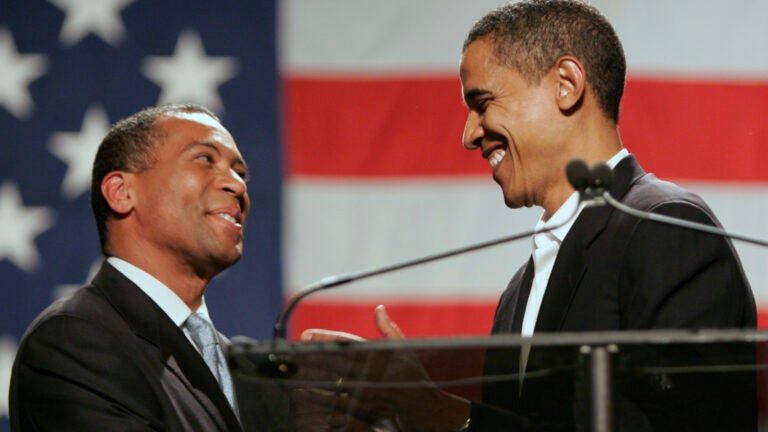 As a presidential candidate in 2008, Barack Obama faced accusations of plagiarism when he gave a speech entirely similar to one made by Deval Patrick a couple years earlier.
During this election season, Obama was sure to give the former Massachusetts governor credit when he quoted Patrick in a speech in Springfield, Illinois on Wednesday.
"Recently, I've been thinking a lot about something a friend of mine, Deval Patrick, once said to his constituents when he was governor of Massachusetts,'' Obama said. "He said, 'Insist from us and from each other a modicum of civility as the condition for serving you.' This is what he told voters. 'Insist on us having a modicum of civility.'''
Those quotes came directly from Patrick's State of the Commonwealth speech in January 2014.
Obama continued:
I think that's something that all of us, as Americans, have to insist from each other. Our children are watching what we do. They don't just learn it in school, they learn it by watching us — the way we conduct ourselves, the way we treat each other.

If we lie about each other, they learn it's okay to lie. If we make up facts and ignore science, then they just think it's just their opinion that matters. If they see us insulting each other like school kids, then they think, well, I guess that's how people are supposed to behave.

The way we respect — or don't — each other as citizens will determine whether or not the hard, frustrating, but absolutely necessary work of self-government continues.
Back in 2008, Obama faced criticisms from Hillary Clinton that his candidacy was empty rhetoric. He rebutted that by quoting from history's most famous lines, and saying that "just words'' could be powerful.
But Obama's speech was almost identical to one given by Patrick in 2006, and Clinton's campaign accused Obama of taking credit for others' words. Patrick, a friend of Obama, said the criticisms were unfair.
This time, though, there was no doubting the origins of Obama's words.
Obama has often praised Patrick's leadership of Massachusetts and even floated the idea that he "would make a great president or vice president.''