Local
This Cape Cod town is paying for rail service that doesn't exist
It may never get a station, but Bourne is now part of the MBTA.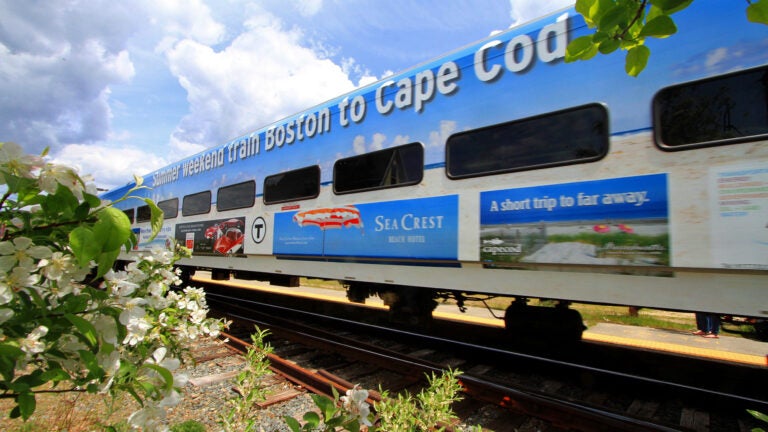 Last spring, the residents of a Cape Cod town did something unprecedented fora Massachusetts town or city: They voted to join the Massachusetts Bay Transportation Authority.
Bourne is the first town to ever make such a vote since the current T district was drawn up in 2000. Town officials were eager to join because they thought it represented the best chance to bring commuter rail service to the village of Buzzards Bay, providing a daily rail link between Boston and the Cape, which hasn't existed since the late 1950s.
There's one catch to this strategy, though: no plans to launch the hoped-for service currently exist. Yet starting this year, Bourne will pay the MBTA an annual fee of nearly $42,000, despite no guarantee that the town will ever see daily trains.
Town Administrator Thomas Guerino said he was not aware that Bourne would be assessed by the T this year. But he maintained that the relatively light price of admission would be a worthwhile.
"It gives us some visibility with the folks there, and we will continue to press the case for accessibility to transit down here,'' Guerino said.
A prized rail link between Boston and Buzzards Bay could lay the groundwork for an economic development initiative near the mouth of the Cape Cod Canal, which runs through Bourne, Guerino said.
Last spring, however, may not have been the ideal time to campaign for MBTA service. Fresh off a winter crisis that exposed infrastructure and management problems, the transit agency was in a state of chaos and self-evaluation.
A panel appointed by Gov. Charlie Baker to explore the T's issues said the agency had been too focused on expansion and should instead focus on maintaining the system it already had. The angst around expansion only compounded last summer when the Green Line extension, the system's biggest new project, was projected to be way over budget.
The state's Department of Transportation even told local officials that Bourne should hold off on joining the crisis-struck T, because joining—and paying to do so—was no guarantee of someday seeing commuter service, The Cape Cod Times reported.
Voters opted to join the T anyway.
Until that point, the service district had been comprised of 175 towns and cities in eastern and central Massachusetts, all of them designated by the state legislature. Each municipality in the district pays an annual fee that varies by town. The local fees covered about 8 percent, or $160 million, of the T's operating budget this fiscal year.
More than 100 of those towns do not host a transit station, but border a town or city that does. That's true of Bourne: Its next-door neighbor, Plymouth, has a station on its far northern border, about a 20-minute drive toward Boston from the canal.
Paul Regan, the executive director of the MBTA Advisory Committee, which represents the towns and cities in the district, said he doesn't understand why Bourne wanted in. As far as he can tell, the T has little interest in expanding its footprint as it continues to work through the agency's financial problems.
"If commuter rail service to Bourne is the goal, then the goal is going to have to be in making funds available to get commuter rail service to Bourne,'' he said. "Because those funds don't exist right now.''
But David Vieira, a state representative for Bourne, said the MBTA met with local officials last October to chat about possibly starting a pilot program for service. He said he's hopeful the idea could be discussed further this spring, but acknowledged it may not easily gain traction.
Still, he thinks a prospective Buzzards Bay station is different from other proposed expansion projects because much of the necessary infrastructure is already in place. In partnership with the Cape Cod Regional Transit Authority, the T already extends the Middleborough/Lakeville commuter rail line on summer weekends to send seasonal CapeFlyer trains through Buzzards Bay, where it stops at a small station.
"The big infrastructure improvements that would have been needed a few years ago have already been made,'' Vieira said. "So we really have this section of track that is an asset.''
Vieira suggested the speculative service may require a partnership with the private sector to fund it.
Private backing for MBTA expansion has been hit or miss in recent years. New Balance, for example, is building a new commuter rail station near its sprawling headquarters in Brighton. The T is also hopeful third parties will help fund the stalled Green Line extension if and when it gets back on track. But the private sector failed to fund late-night weekend transit, which is facing imminent cancellation.
MBTA spokesman Joe Pesaturo confirmed that "a pilot program is something that is in the discussion stage, but there are no details to provide at this time.''
It's not clear if the discussion will ever advance beyond the discussion stage. Meanwhile, Bourne can say it is officially a paying member of the T's service district — for better or for worse.