Local
Deval Patrick, Elizabeth Warren floated as possible Supreme Court picks
Both had distinguished legal careers before being elected to office.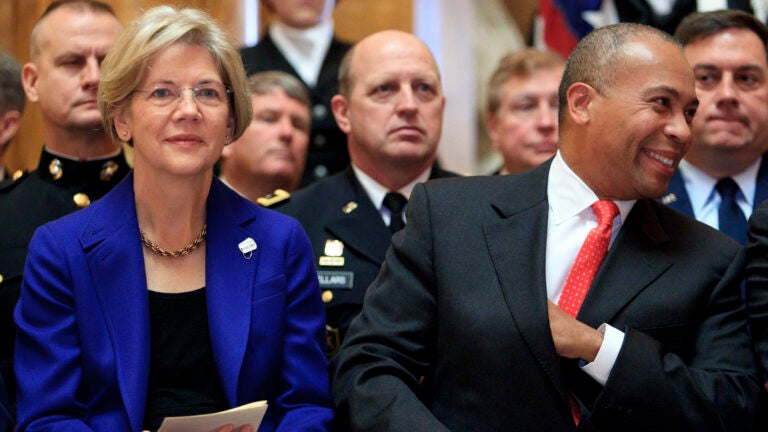 Former Massachusetts Gov. Deval Patrick and U.S. Sen. Elizabeth Warren have been mentioned as potential picks for the Supreme Court in light of justice Antonin Scalia's death over the weekend.
Patrick, for one, is friends with President Barack Obama and shares backgrounds at Harvard Law School and in civil rights law.
"He has such a strong background in constitutional law, civil rights, civil liberties,'' Phillip Johnston, the former chairman of the Massachusetts Democratic Party, told the Boston Herald. "He would be an outstanding member of the court, I believe.''
In addition, The Washington Post said he would be the "best person'' for the job in the sense that Patrick shares Obama's views of the world and the Constitution.
Warren, too, has her promoters. Rep. Alan Grayson, a Democratic congressman from Florida, pushed for a new Justice Warren in a Huffington Post article on Monday:
She has been an indefatigable watchdog over the capital markets for almost a decade, going back to her extraordinarily valuable work on the Congressional Oversight Panel for the federal bailout program. She created the Consumer Financial Protection Bureau, even though the Senate Republicans wouldn't let her run it. She electrified the nation with her "you didn't build that'' speech. And she has been a tireless and effective U.S. Senator. …
Grayson also wrote that Warren, as a member of Congress, would be a better communicator of her ideas than a highfalutin judge.
Patrick graduated from Harvard Law School in 1982, worked as an assistant Attorney General in the civil rights division under President Bill Clinton, and was general counsel at Texaco and Coca-Cola.
Warren was a Harvard Law professor specializing in bankruptcy law, became a prominent consumer protection advocate, and established the Consumer Financial Protection Bureau.
Whoever Obama nominates will have a fight on his or her hands. Senate Republicans have pledged to block any candidate, opting instead to wait until the next president is elected.
While recent Supreme Court nominees have all been lower federal court judges, there's plenty of precedent for non-judges being nominated.
Six sitting senators have been appointed to the Supreme Court, most recently Harold Burton, a senator from Ohio, in 1941. Hugo Black, who served as an associate justice of the Court from 1937 to 1971, was a senator from Alabama when President Franklin Roosevelt appointed him to the bench.
Plenty of governors have been nominated, too. Chief Justice Earl Warren, whose court decided the famed Brown v. Board of Education case, was a three-term governor of California. In addition, William Murphy had a political career as mayor of Detroit and governor of Michigan before being named to the Supreme Court in 1940.
Appointing a non-judge would also add some diversity of experience to the Court. Seven of the eight justices on the Court were federal appeals court judges, and all eight graduated from Harvard or Yale law schools.
Those identical professional backgrounds create major legal blind spots, Emily Bazelon wrote in the The New York Times Magazine. Consider the campaign finance case Citizens United, for example.
"Could a justice who'd held elected office have prodded the majority to think harder about its claim that political contributions to 'independent' groups 'do not give rise to corruption or the appearance of corruption'?'' Bazelon wrote.