Local
Gov. Charlie Baker 'ready to strangle somebody' about commuter rail delays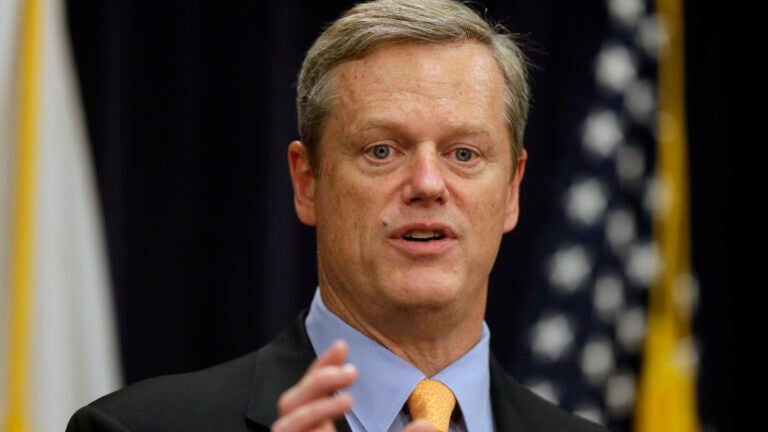 MBTA riders weren't the only ones feeling frustrated and angry about this morning's hellish transit commute.
"I've been ready to strangle somebody all day,'' Massachusetts Gov. Charlie Baker said on WGBH's Boston Public Radio. "I'm just waiting for somebody who looks like they need to be strangled.''
The MBTA's commuter rail faced major delays and disruptions on Thursday morning because of switch and signal issues at South Station, officials said. The malfunctioning signal is operated by Amtrak and shared with the MBTA.
Baker, speaking during his monthly "Ask the Governor'' interview, said that the issue was "just another shot from left field'' that affected the MBTA. He said Amtrak discovered the issue at 5 a.m. and informed the MBTA at 6 a.m.
The state did what they could given the circumstances, Baker said.
"First of all, believe me, I feel the frustration that people feel with respect to the way the T was disrupted this morning,'' he said.
Because of the signal and switch issues, commuter rail lines dropped off passengers at Red Line and Orange Line stops before reaching South Station. That caused crowded platforms and overpacked trains along those lines. Making matters worse, a disabled train on the Red Line caused severe delays.
In all, Thursday's commute was a throwback to last February, when more than 100 inches of snow hit Boston and caused widespread disruptions and outright cancellations of MBTA service.
Amtrak said they are still investigating the cause of Thursday's signal and switch problem, and have not given an estimate on when it will be fixed.
MBTA spokesman Joe Pesaturo said they have been in constant contact with Amtrak officials as they work to repair the issue. The T has added extra Orange and Red Line cars to handle additional passengers this afternoon.
Amid all these issues, Baker said he remained committed to getting costs under control and improving service at the MBTA. He cited the weekly meetings of the Fiscal and Management Control Board, which he created last year and tasked with closely examining all parts of the MBTA's budget.
One caller into WGBH told Baker that he would need "divine intervention'' to fix the MBTA.
"Last year, we got some divine intervention,'' Baker said, laughing.