Local
State police honor oldest surviving former officer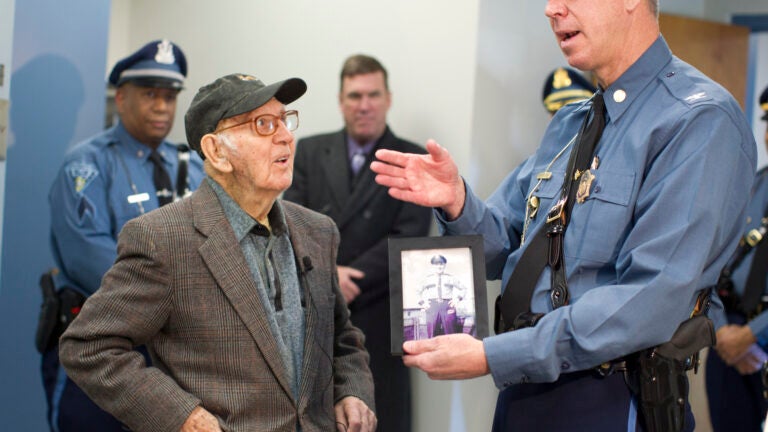 A centenarian veteran of the state police force returned to his old duty station on Thursday for a special visit.
At 100 years old, Harold Fraser is the oldest surviving member of the former Metropolitan District Commission Police, which merged with state police in 1992. Inside the Medford State Police Barracks where he once worked, his brothers in uniform honored him for the part he had in the history of the state police.
State police posted a video of the informal ceremony to their YouTube page.
"It's an honor to have you here today,'' Colonel Richard McKeon, superintendent of the state police, said as he presented Fraser with a state police hat and other keepsakes.
McKeon said all of the current troopers have respect for those officers who came before them and "laid the foundation'' for what the law enforcement agency is today.
"You are one of those gentlemen,'' he told Fraser.
Fraser was also presented with a framed photo of himself in uniform.
[fragment number=0]
The retired officer told The Boston Globe that his time as an MDC officer was the most satisfying of his life.
"I wanted to help people, and I thought it was an excellent job,'' he said.
Fraser, who was born in Scotland, moved to Quincy when he was a boy, according to the Globe. He became an MDC officer in 1949 after serving in the Navy during World War II, retiring from the police in 1970.
Read the full Globe story about Fraser here.