Local
Bernie Sanders' path to the nomination runs squarely through Massachusetts
The question is how far beyond that does it go.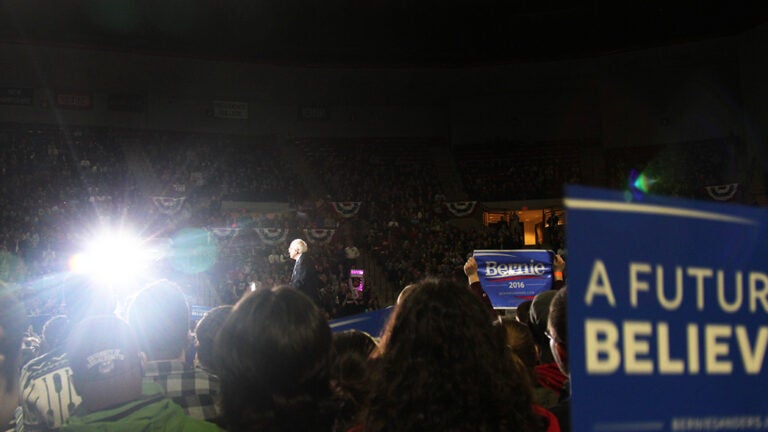 The Democratic primary could be effectively decided within the next two weeks, if Hillary Clinton's campaign gets the outcome they're looking for. With more than 1,000 delegates up for grabs, early March will be do-or-die for Bernie Sanders' campaign.
That perhaps explains why the Vermont senator is not totally focused on South Carolina's Saturday primary this week.
"On Tuesday, March 1, we're going to make history here in Massachusetts,'' Sanders told a crowd Monday at UMass Amherst. "This great state is going to lead us forward to a political revolution.''
If Sanders' political revolution is going anywhere on Super Tuesday, it will have to be in states like Massachusetts, where he has a demographic advantage.
"There are several states on Super Tuesday that have largely white electorates, including Massachusetts, which on paper is similar to New Hampshire, where Sanders cruised to victory,'' Kyle Kondik, managing editor of Sabato's Crystal Ball at the University of Virginia Center for Politics, told Boston.com.
As of Monday night, Clinton leads Sanders in pledged delegates 52 to 51, after votes were cast in Iowa, New Hampshire, and Nevada. Clinton is expected to trounce in South Carolina, where she has the strong support of black voters. Polls also show strong leads for the former secretary of state in Alabama, Arkansas, Georgia, Texas, and Virginia — all of which vote March 1.
"Sanders needs several victories on Super Tuesday to counteract the ones Clinton is likely to win in the South,'' Kondik said. "And there is a path for him to get some wins.''
As far back as early January, the Sanders campaign mapped out a Super Tuesday strategy that hoped to win Massachusetts, as well as Minnesota, Colorado, and the senator's home state of Vermont. One thing these states have in common: They look a lot like New Hampshire, where Sanders won by 22 percentage points.
In November, pollster Steve Koczela charted each state's Democratic primary electorate by how white and liberal the voters were, according to 2008 exit polls, in an NHPR article examining diversity in early-voting states.
"Massachusetts has among the most liberal Democratic primary electorates of any state where exit polls were conducted in 2008,'' Koczela, president of MassINC Polling Group, told Boston.com. "Sanders does exceptionally well among liberal voters.''
Recentpolls in Massachusetts, which has the second-most delegates of the 11 Super Tuesday states (Texas being the first with 252), show the race between Sanders and Clinton within the margin of error.
In total, Massachusetts, Minnesota, Colorado, Vermont, and Oklahoma account for 356 of the 865 delegates at stake on Super Tuesday. Since delegates are allotted proportionally in the Democratic primary (as opposed to winner-take-all), margin of victory is just as important as winning itself.
"Because of the superdelegates, a tie in delegates won in caucuses and primaries is not good enough for Sanders,'' Kondik said. "Let's see if he can make further inroads into the black community. A win in any Southern state would represent a crack in the Clinton firewall.''
With polls showing a close contest, the Sanders campaign added Oklahoma, as well as Nebraska and Kansas, to the list of states they think they can contest in March, if not in November. Not exactly a sign of expanding support among the black community, but perhaps another direction of growing appeal, according to Kondik.
"All of these states have very low black populations,'' he said. "African Americans are Clinton's most reliable voters. However, Oklahoma is a much more conservative state than the others, and its Democratic electorate in 2008 was among the most moderate in the country. Oklahoma will be a great test as to whether Sanders can appeal to white voters from conservative states in Democratic primaries.''
Considering Clinton's massive 451-19 lead among unpledged superdelegates, Kondik says Sanders will need to continue to win states to keep the pressure on, and maybe more than that. With 2,383 total delegates needed to clinch the nomination, Clinton currently leads 503 to 70.
"Ultimately, he probably needs some sort of new development – an indictment of Clinton in her email scandal or something else – to win the nomination,'' Kondik said. "But the key thing for him is to not just let Clinton wash him away and for the press to move on from the Democratic race.''
Barring a development that completely alters the dynamics of the race, Koczela said the best path forward for Sanders is to expand his appeal beyond only states, like Massachusetts, that have disproportionately white and liberal primary voters.
"I don't know if that's going to be enough to get him the nomination,'' he said.