Local
Kelly Ayotte's stance on a Supreme Court nominee is hurting her re-election chances, new poll says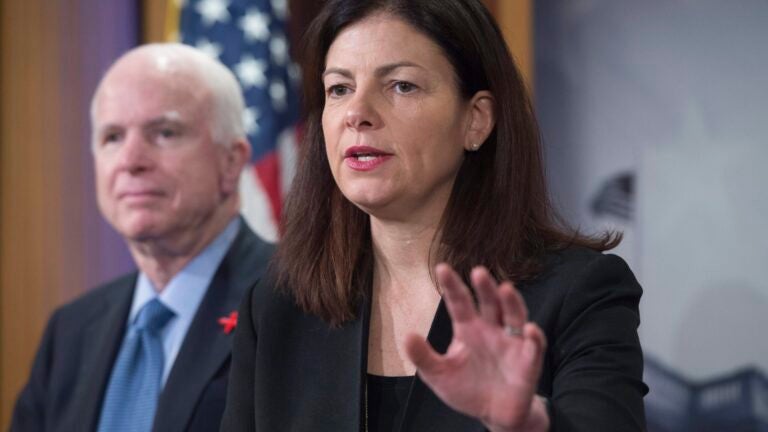 Less than nine months out from Election Day, Kelly Ayotte is already in a tough battle to keep her Senate seat.
The New Hampshire senator's decision to align herself with her Republican colleagues in refusing to to take action on a potential Supreme Court nominee, according to a poll out Wednesday, is not helping her chances.
At a two-to-one rate, Granite Staters say Ayotte's stance on the issue make them less likely to vote for her, according to a new Public Policy Polling poll.
The group interviewed 624 registered New Hampshire voters and found, with a margin of error of 3.9 percent, 51 percent were less likely to vote for Ayotte, while 26 were more likely to vote for her, because of her position on the matter.
Among independents, a crucial voting bloc with whom the New Hampshire Republican's approval ratings are underwater, Ayotte's refusal to confirm a replacement for the late Justice Antonin Scalia was particularly damaging. Fifty-seven said they were less likely to vote for her, while only 18 percent said they were more likely.
In an interview Tuesday, Ayotte told Politico she would not meet with a Supreme Court nominee until after a new president is elected, in accordance with most Senate Republicans' refusal to take no action on a President Barack Obama appointee.
"No, no … in terms of the advise and consent process, I believe we should wait to have the people weigh in on who the next president is,'' Ayotte said. "And to weigh in, obviously, based on who … that next president will nominate.''
Both Gov. Maggie Hassan, Ayotte's challenger, and the New Hampshire Democratic Party have used the Republican's position on the issue to cast her as "out of sync'' with the state's electorate.
Jon Kohan, Ayotte's canpaign manager, pointed out that the poll was commissioned by a liberal group, Americans United for Change. As Politico noted, the polls were quickly used to portray other Republicans facing re-election as at odds with their constituents.
"It's no surprise that a Democrat organization commissioned a poll from a Democrat polling organization and got the result they were looking for,'' Kohan said. "What is surprising is that Governor Hassan continues to side against giving voters the chance to weigh in about this critical vacancy.''
According to the PPP poll, New Hampshire voters support filling the Supreme Court vacancy this year 59 percent to 36 percent — a rate that is also representative of independents (60 percent to 33 percent).
A national poll by the Pew Research Center found 56 percent of Americans wanted the Senate to hold hearing, compared to 38 percent who said they did not want a vote on a potential Scalia replacement until the next president is in office.
Maine Sen. Susan Collins, the only other New England Republican in the Senate, has said the Seante should consider an Obama nominee, breaking ranks with her national colleagues. Illinois Republican Sen. Mark Kirk — who, like Ayotte, is also facing a tough re-election battle — has also called for the Senate to take up a nominee.