Local
Family of Justina Pelletier sues Boston Children's Hospital
Boston Children's Hospital said Thursday it welcomes the chance to "vigorously defend the medical care'' provided to the teen.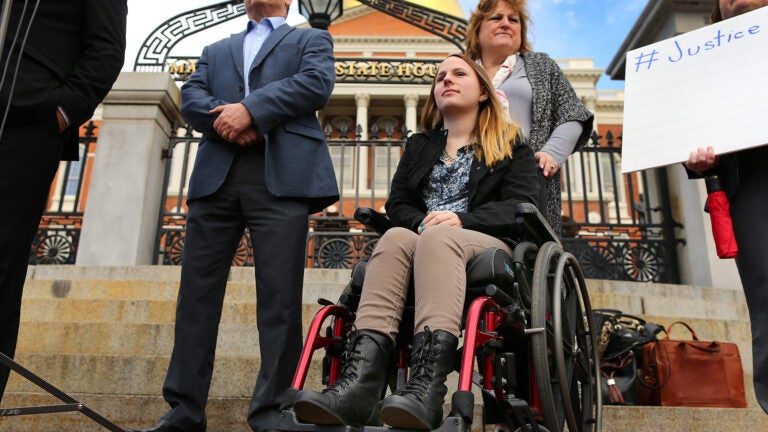 The family of a Connecticut teenager who was at the center of a highly publicized medical and custody dispute filed a lawsuit against Boston Children's Hospital on Thursday, alleging civil rights violations and medical malpractice.
The lawsuit contends that Justina Pelletier's civil rights, along with those of her parents, Lou and Linda Pelletier, were violated by the hospital and four of its doctors when they sought to terminate her parents' custody rights. The lawsuit also seeks unspecified monetary damages.
"Ultimately what Boston Children's Hospital did was totally ignore a diagnosis that had been in place for two years,'' Lou Pelletier told Boston.com on Thursday.
Pelletier said his daughter had been treated at Tufts Medical Center for mitochondrial disease, but in February 2013 went to Boston Children's on a recommendation from her primary doctor at Tufts because the gastroenterologist Justina previously saw had since transferred to that hospital. Instead of being admitted directly to the GI unit, he said, his daughter was "intercepted'' in the emergency room by another doctor who changed Justina's diagnosis, believing her illness to be psychosomatic and taking her off the medications she was previously prescribed.
When the Pelletiers moved to discharge their daughter, the hospital contacted the Massachusetts Department of Children and Families to discuss the possibility of filing "medical child abuse,'' concerned that the parents were interfering with the teen's medical care and pushing for unnecessary treatments.
The battle over Justina's medical care led to DCF taking over the teen's custody for more than a year. During that time, Justina, who is now 17, was transferred to a psychiatric unit.
"That's when the nightmare really began,'' Pelletier said of February 14, 2014, the day DCF was brought in and he and his wife were escorted by security out of the hospital. He said his daughter's medical condition deteriorated while she was in state custody.
"When we arrived [at Boston Children's], she had the flu,'' Pelletier said. "Now she's in a wheelchair, she can't walk.''
In a statement released Thursday, Boston Children's Hospital said it welcomes the chance to "vigorously defend the medical care'' provided to Justina Pelletier:
We are committed to the best interests of our patients' health and well-being, according to the high standards we follow for every patient placed in our care. Out of respect for the patient's privacy and the ongoing legal process, Boston Children's is unable to provide further comment about the specific issues of this case at this time.

Regarding general questions about religious and education services, Boston Children's offers patients and families access to a broad complement of services that are outlined at http://www.childrenshospital.org/patient-resources/family-resources. Specifically, patients and their families have access to Boston Children's multi-faith chaplaincy, which offers spiritual support 24 hours a day to people of all traditions and those with no religious affiliation to assist and support our patients and their families. Boston Children's also offers educational tutoring for all eligible patients, with a full time teacher on staff to provide ongoing education as appropriate for each individual patient.

Boston Children's and its providers are required by state law to report cases of suspected child maltreatment to the Department of Children and Families (DCF). DCF is solely responsible for investigating reports of suspected child maltreatment and for deciding whether to go to court to request temporary custody of a child. The Hospital never decides who has custody of a child in any case of alleged child maltreatment. The Hospital is not the custodian or the legal guardian of the patients in its care, nor is it affiliated with any state agency. Boston Children's does not keep patients in its care against the direction of the custodial guardian.''
Rev. Patrick Mahoney, a spokesman for the Pelletier family, told Boston.com on Thursday the "negligent actions'' of the hospital resulted in Justina being taken away from her family.
"Today the Pelletier family is responding with this lawsuit against Boston Children's seeking accountability, justice, and the hope that this would never again happen to another family,'' he said. "That the nightmare the Pelletiers endured for 18 months would never occur to anyone else. So that's our hope in filing the suit today. It's not about revenge or profit, it's about fairness, accountability, and justice.''
The whole experience has taken a tremendous toll on Justina and the family, Pelletier said, and the goal of the lawsuit is to see that Boston Children's stops doing "parent-ectomies.'' He said the bottom line is the hospital changed their daughter's diagnosis, wouldn't allow he and his wife to be involved in her medical care, and took their parental rights away.
"We're demanding accountability for their actions, the harm they did to her and our family, and that they continue to do to families,'' he said.
Pelletier wasn't working while he was trying to get his daughter back and now that she's home, much of the family's time is spent dealing with the "ramifications'' of Justina being "kept away in a locked ward'' for the large portion of time she was at the hospital, said Kathy Jo Cook, an attorney for the family.
"Their lives are sort of in shambles,'' she said.
Justina, Cook said, is "suffering from post traumatic stress from essentially being held hostage.''
Justina was with the family at a press conference held on the steps of the State House on Thursday, announcing the suit. Pelletier said she has a long way to go, but is recovering and optimistic. She's doing physical therapy and therapeutic horse riding to help regain her strength.
Justina told reporters on Thursday that the hospital treated her badly.
"Just imagine being in a psych ward without needing to be in a psych ward,'' she said. "I'm very angry, and I just don't understand how this happened, and I really don't want this to happen ever again to any other family.''
Information from the Associated Press was used in this report.