Local
Christie's endorsement of Trump creates headache for Gov. Charlie Baker
Baker said he was "surprised'' about Christie's endorsement.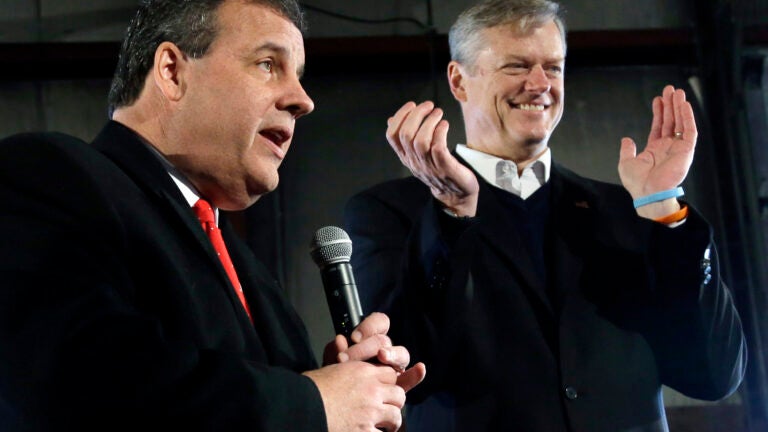 Massachusetts Gov. Charlie Baker said he was "surprised'' that his candidate of choice, Chris Christie, endorsed Donald Trump for president on Friday.
Christie, the New Jersey governor, appeared alongside Trump in Texas to promote his run for president, saying he was the best candidate to beat Hillary Clinton.
The endorsement put Baker in a political bind just a few days ahead of the Massachusetts primary election on Tuesday. Baker endorsed Christie when he was still in the race in early February, partly because Baker said he was "concerned'' about the rise of Donald Trump and Ted Cruz.
Christie dropped out of the race after receiving limited support in the New Hampshire primary. Baker has declined to endorse another candidate since.
In a short press conference on Friday afternoon in Boston, Baker said that, despite the transitive property, his support of Christie does not mean he supports Trump.
"Chris Christie is very much his own man. That was part of what made him an attractive candidate for me. But I don't believe that his endorsement of Trump says much of anything about why I chose to endorse him,'' Baker said. "I'm not disappointed, but I'm surprised.''
The Massachusetts Democratic Party pounced on Baker's lack of endorsement for a current candidate, saying in a statement that Baker should tell voters who he now supports.
"Gov. Baker claimed he endorsed Chris Christie in order to prevent Donald Trump and Ted Cruz from winning the nomination. Well, now that Christie has endorsed Trump, voters here deserve to know where Gov. Baker stands,'' MassDems said. "Our status quo governor who has shown no real vision for our future can't be status quo on this anymore.''
The Massachusetts governor has expressed a mix of anger and disgust at Trump for his "ridiculous'' and "inappropriate'' proposal to temporarily ban Muslims from the U.S. and his "reprehensible'' comments on women.
In an early February press conference announcing his support of Christie's candidacy, Baker singled out Trump as particularly unfit for office.
"I think there's a certain temperament and a certain collaborative nature that's fundamental to somebody's ability to succeed in government, and I question whether he has the temperament and the sense of purpose that's associated with delivering on that,'' Baker said.