Local
Despite the polls, Massachusetts students for Hillary say they don't feel outnumbered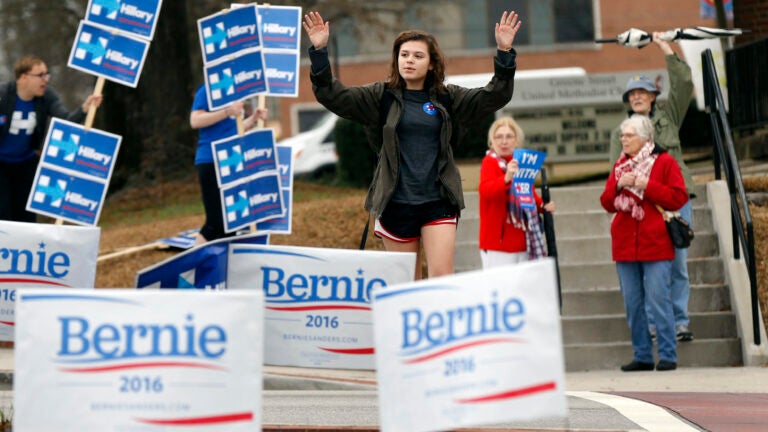 Hillary Clinton said recently she's "not sure'' why young people have overwhelmingly supported her Democratic primary opponent, Bernie Sanders. Poll after poll has shown 18-to-29-year-olds flocking to the Vermont senator, sometimes at a rate of more than four-to-one.
But don't tell that to Clinton's most ardent student supporters.
Michael Kikukawa, the outreach captain of Harvard Students for Hillary, says the two camps are split fairly evenly on campus.
"When we had Harvard College Democrats shuttle up to New Hampshire to canvass, we had about equal, if not more students from Harvard than the Bernie Sanders campaign,'' Kikukawa said. If Facebook is any metric, Sanders supporters outnumber Clinton's crew by about 25 percent.
Less than a week before the Tuesday primary, the Clinton campaign released a list of campaign leaders on 14 different Massachusetts colleges. Those who spoke Thursday with Boston.com said they had made up their minds before Clinton even officially announced she was running, or soon thereafter.
They don't point to one singular issue as a deciding factor, rather Clinton's collective platform as the reason for their decision.
"She has the best way to deal with these issues, rather than the best way to sound about these issues,'' Kikukawa said, highlighting Clinton's education reform, racial equality, and foreign policy plans.
"People are excited about the Sanders campaign,'' he said. "But when people read a little bit more about their platforms, they realize they're both trying to tackle the same issues but from different directions.''
At Clinton's alma mater, Hannah Lindow, president of Wellesley Students for Hillary, said she supports the former secretary of state because she's the most qualified to actually affect the change she seeks.
Lindow said that, from her view, most people on campus are still undecided, with Clinton supporters a "close second,'' and a "vocal minority'' of Sanders supporters. Indeed, the Wellesley Students for Hillary Facebook page had more than double the "likes'' of Wellesley Students for Bernie.
She added that she thinks the media however tends to focus in on the Sanders supporters, particularly feminists who support the Vermont senator.
"I am a young feminist and I still think that Hillary is the best person to advance those issues,'' Lindow said.
"Hillary is held to a higher standard,'' she added, noting that Sanders "benefits from being able to yell and wave his arms,'' while Clinton would be harshly criticized if she did the same thing.
James Cody, president of Boston College Students for Hillary, said he decided to get involved within a month after Clinton announced her candidacy. He said he was in New Hampshire when she announced her plan to address higher education costs, an issue that is of course pertinent to him.
Cody said his chapter is very active on campus, canvassing locally and recruiting new members.
Despite BC Students for Sanders' more than two-to-one advantage on Facebook, he doesn't feel outnumbered by Sanders supporters. From his experience coordinating with groups at Boston University, Tufts, Brandeis, Harvard, and Northeastern, Cody said it was the same way.
In the northwest corner of the state, Williams College's Students for Hillary president, Meghana Vunnamadala, described Clinton's support as "growing.''
"The more we do, the more people get on the bandwagon,'' she said, adding that "people are really looking at the policies'' at the small liberal arts school. Vunnamadala — who said she was inspired by Clinton's visits as First Lady to help people, ignored by their own government, in remote India — acknowledged they had a ways to go. Ephs for Bernie outnumbers Williams Students for Hillary 209 to 57 on Facebook.
Each of Clinton's campus leaders said they're all focused on getting-out-the-vote efforts, canvassing through the weekend, in preparation of this coming Tuesday's primary.
With recent polls showing the Democratic race in Massachusetts within the margin of error, Clinton's student backers will be hoping their estimates are more true than the generation-gap precedent in past states.