Local
Weekend before Massachusetts primary, poll shows a Donald Trump blowout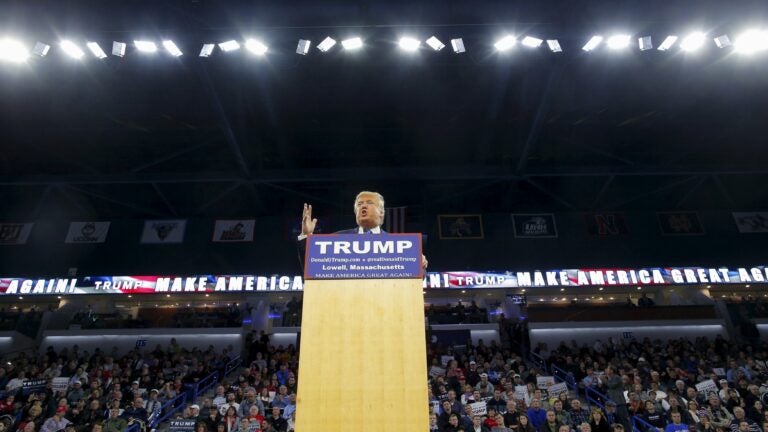 A new Massachusetts Republican primary poll Saturday reinforces what the last two polls have found: Donald Trump continues to lead the field, and it's not even close.
According to the Suffolk University poll, released three days before Bay Staters hit the voting booths Tuesday, the Republican billionaire has 43 percent support among likely GOP voters. He leads Florida Sen. Marco Rubio with 20 percent and Ohio Gov. John Kasich with 17 percent.
Texas Sen. Ted Cruz and retired neurosurgeon Ben Carson trailed with 9 percent and 4 percent, respectively. Seven percent said they were still undecided. The poll's margin of error was 4.4 percent.
According to Suffolk pollster David Paleologos, Trump's supporters were particularly committed to their candidate.
[fragment number=0]
Trump boasts a 26-point lead in Massachusetts, according to an average of the last three polls taken, which would be the largest margin of victory of any primary or caucus so far.
Despite Trump's popularity, he is not the most favorably viewed candidate in the state. Kasich is. Massachusetts Republicans view the governor, who has made a point of trying to run a positive campaign, 60 percent favorably to 34 percent unfavorably. Trump (56 percent favorable-to-34 percent unfavorable) and Rubio (51 percent favorable-to-32 percent unfavorable) followed, while Cruz was the least popular among Republicans in the state: 37 percent viewed him favorably, while 48 percent had an unfavorable view of the Texan.
Outside his own supporters, there is not much confidence that Trump can win in November. Asked for their general election predictions, 50 percent of respondents said Trump will win (slightly more than the 43 percent that support the billionaire candidate), while 18 percent of Massachusetts Republicans said they think Hillary Clinton be elected president. Five percent predicted Marco Rubio will win in November.