Local
John Kasich peddles hugs and positivity in Plymouth
The Ohio governor is hoping Massachuetts can give him the type of second-place finish he needs to sustain his campaign.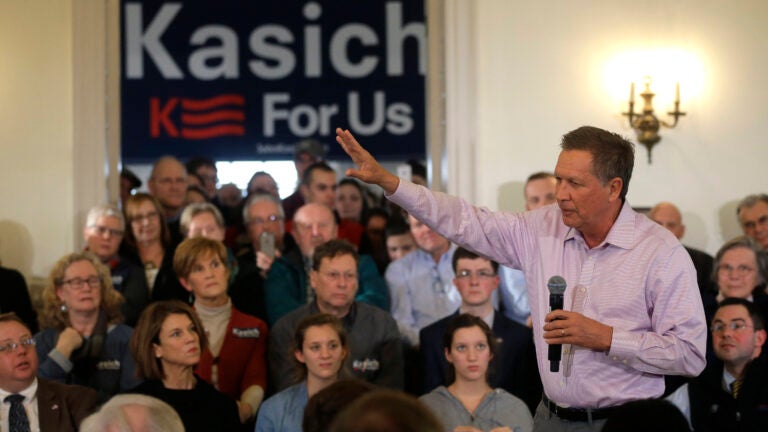 John Kasich says everybody needs to take a step back and chill for a second, before anointing a Republican nominee.
Campaigning Monday in Plymouth — not far from his wife's Newton roots and his family's vacation spot on the Cape — the Ohio governor looked to position himself above the sinking discourse of the Republican primary, both in substance and tone.
"I can't believe we're in Plymouth,'' Kasich said. "I've been looking for pilgrims since I got out of the car.''
He introduced himself by way of his grandparent's immigration story from Europe, juxtaposed with the hard-line immigration discussion in the GOP primary, and his father's career as a mail carrier.
A lifelong politician, Kasich looked to tap into the populism upon which political insurgents like Donald Trump and Bernie Sanders have found resonance.
"All their bills are going up, except their own pay,'' Kasich said, speaking of the sense of economic insecurity for many Americans. "And then they've got a son or daughter up in the attic with a ton of college debt.''
Recent polls have shown Kasich battling for second place with Marco Rubio — both of whom trail Trump by double-digit margins — in Massachusetts, which awards its 42 Republican delegates proportionally (rather than winner-take-all).
The governor hopes his upbeat, improvised style will ultimately boost him past the Florida senator.
In one particularly emotional moment during the question-and-answer portion of the town hall, a 72-year-old announced to the audience he was recently diagnosed with an "aggressive cancer.''
For the sake of his children and grandchildren, however, he didn't need a hug, which Kasich is known to give out during campaign events.
"I need you to win,'' he said, to boisterous applause and cheers from the packed meeting hall.
Kasich motioned him over and gave him a hug anyway.
[fragment number=0]
In a state where unenrolled voters outnumber Democrats and Republicans combined, Kasich emphasized his record of compromise and urged undecideds to cast a vote for him on the Republican ballot (unenrolled voters in the state can vote in either primary).
"I labored for 10 years against a Republican president to try to get our budget balanced,'' he said, referencing his nine-term career representing Ohio in the House of Representatives from 1983 to 2001.
Answering questions from the audience, Kasich said he was open to campaign finance reform and strongly opposed to gerrymandering — though his No. 1 priority was jobs. He said the United States needed to increase its military spending, while also acknowledging areas of waste in the Pentagon.
And when asked about Common Core — the states-based education standards he stands by, despite its unpopularity in Republican circles — Kasich said he would shift all federal education programs to the states.
On Sunday, the Republican candidate said he believes humans are affecting climate change and, while campaigning earlier Monday in Vermont he said he supports medicinal marijuana "in some cases.''
The moderate tone underlines Kasich's primary strategy: win over moderate and centrist GOP primary voters and rack up enough delegates with strong second-place finishes — and hopefully some first-place finishes in his home state and Michigan — to be stay in the picture for the party convention.
While surrogates admit it's a "steep climb,'' The New York Times reported Kasich's advisors have sketched a path.
It depends on a long race and on several factors outside Mr. Kasich's control, such as Mr. Rubio's falling away after the Florida primary on March 15 and Mr. Trump's failing to get enough delegates to clinch the race before the July convention.
Kasich says that then he will arise as the alternative to Trump — perhaps in a brokered convention (though he publicly has disabused talk of that specific situation).
"I'm just sort of astonished that we're in, like, the second inning, if not the first inning, and people have already declared the game's over,'' Kasich told the Times.
In Plymouth on Monday, Kasich was content to try to rise above Trump and Rubio, if not in delegates for the time being, then in substance.
"I'd rather lose than degrade myself and call people names,'' he said, referencing the insult-laden discourse Rubio and Trump recently descended into.
"At the end of the day, what we need is a vision, a positive message, and a reality of reform that can really carry the day,'' Kasich said.