Local
Northeastern administrators decline to attend Boston City Council hearing on semiautomatic weapons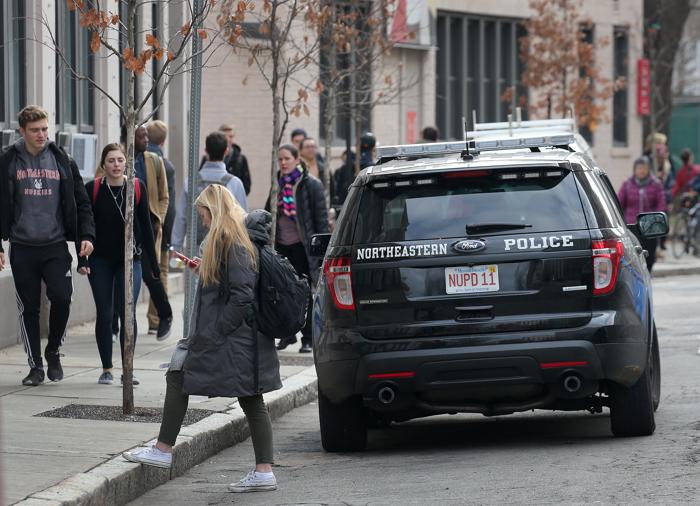 Northeastern University administrators have declined to attend a Boston City Council hearing Monday regarding the campus police department's capability to handle semiautomatic weapons.
In a Friday letter to City Councilor Andrea Campbell, Northeastern's senior vice president and general counsel, Ralph Martin, wrote that the school "respectfully decline[s] the invitation extended to members of the Northeastern University administration to appear at the February 29 hearing.''
"The councilors' premise for calling a public hearing is nonexistent, and we consider the hearing scheduled for February 29 unnecessary,'' he wrote.
Northeastern administrators made the decision to equip university police with semiautomatic rifles during active shooter situations on campus last fall, and have faced criticism from city councilors and the Boston Police Department since the plan went public in December. In January, two city councilors — Josh Zakim and Tito Jackson — penned an open letter to the university, asking for administrators to attend a public hearing on the matter that would give those in neighboring communities a say.
Just days before the hearing was slated to take place on February 29 at 5 p.m., the university responded with the latest letter declining to participate.
"Councilors Josh Zakim and Tito Jackson have called for this public hearing based on claims that Northeastern decided to increase the tactical capabilities of its Incident Containment Team 'without the collaboration and approval of BPD' and made 'no effort to consult or involve' the local community,'' Martin wrote. "These statements are not accurate.''
Instead, Martin says he sent the city councilors a previous letter in January outlining the correspondence the university had with Boston police between October and December regarding the initiative. His letter also notes that while there is no formal process to consult community members on the decisions made by the private institutions' law enforcement bodies, campus officers and other Northeastern administrators have met with city councilors as well as representatives of the Black Ministerial Alliance and the Ten Point Coalition to discuss the nature of deploying the weapons on campus.
Despite this communication, Boston Police Commissioner William Evans expressed his disapproval of the plan in December, calling the weapons "unnecessary'' and emphasizing that highly-trained officers from the department could respond to the campus "within five or six minutes.''
Still, the university plans to follow through with the plan, and Martin's letter also noted that Northeastern isn't the only school taking action. A Boston Globe article in December reported that Boston University's police force has had access to semiautomatic weapons for more than five years, and MIT officers carry them in their vehicles at all times.
For Martin, the criticisms levied against the university and proposed hearing seem to unfairly target Northeastern, which he says is focused on "strengthening the collective capacity of local law enforcement to work together in the event of an active shooter incident of Northeastern's campus.''
"While Northeastern's strong partnership with the Boston Police Department and other local agencies is integral to the safety of our campus, Northeastern University police officers are charged with the explicit responsibility of protecting the university's 77-acre campus, and its students and employees,'' Martin wrote. "We will continue our collaborations with BPD and other area law enforcement agencies, as well as with Mayor Walsh, around these and other important issues affecting our great city.''