Local
Super Tuesday voter turnout in Massachusetts projected to smash presidential primary records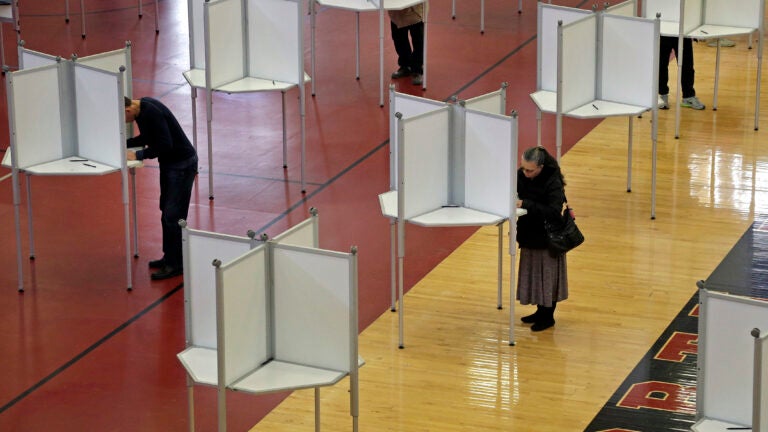 Regardless of who Massachusetts voters ultimately choose in Tuesday's presidential primary, the state appears to be on track for a historic day.
According to the Boston Election Department, 81,372 votes had been cast in the city as of the 3 p.m. count, for a turnout rate of 21.2 percent.
Based off those numbers, MassINC Polling President Steve Koczela projected total turnout in Massachusetts will fall around 2.1 million by the times polls close at 8 p.m. As Secretary of State William Galvin predicted Monday, such turnout would easily top the previous 2008 turnout record of 1.8 million.
[fragment number=0]
Boston is the only city that releases voter turnout on the day of the primary, but, <a href="
according to Koczela, has a stable enough relationship with statewide turnout to forecast totals across Massachusetts. He projected, based off the 3 p.m. numbers, that voter turnout in the city would total around 153,000.

That number would be about 40 percent of the 382,946 voters registered for Tuesday's primary.

Compared to 2008 — when 501,000 Bay Staters voted in the GOP primary and more than 1.2 million voted in the Democratic primary — Republicans appeared to be turning out at a disproportional rate.

[fragment number=1]

Galvin said Monday he thought Massachusetts turnout on the GOP side would exceed 700,000, noting that nearly 20,000 Massachusetts Democrats had left the party since January 1, either to join the GOP or to become unenrolled voters, who can vote in either primary.

The secretary of state said he guessed the reason for the shift was "the Trump phenomenon,'' though it's unclear whether the party-changers plan to cast a vote for or against the polarizing Republican candidate.

As Koczela's fellow MassINC pollster Rich Parr mapped, turn out in "student-rich Brighton'' and "liberal'' Jamaica Plain appeared to be high — possibly a good, if small, omen for progressive insurgent Bernie Sanders on the Democratic side.

[fragment number=2]