Local
Jordan Marsh name may be on its way back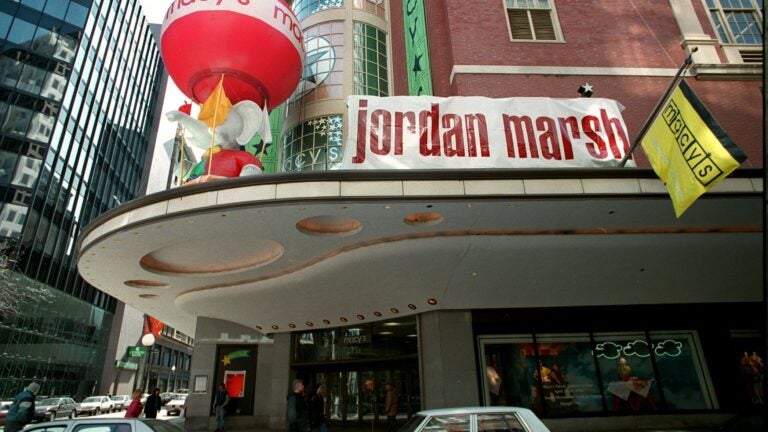 Twenty years after New England-based Jordan Marsh shuttered its doors, the department store chain's name and its signature blueberry muffins are making a comeback.
Strategic Marks, a California-based company that rebuilds well-known brands following closures, settled a six-year lawsuit with Macy's last Monday, acquiring the rights to seven department store names. The company, which recently brought Hydrox cookies out of extinction, plans to make the brands available first in an online mall and then by rolling out department stores.
"We fought for the consumers to bring back some of these brands,'' Ellia Kassoff, Strategic Marks' president, told Boston.com. "We've had a lot of great successes and this is a huge win for us to bring these back to the consumers where they belong and not in some corporate file.''
Established in 1841, Jordan Marsh's founders moved around for a few years before setting up shop permanently on Washington Street in downtown Boston. The company spent the next century expanding, but went bankrupt in 1996, leaving the brand's name and downtown location to Macy's. In 2010, Strategic Marks filed for the Jordan Marsh's name after the trademark expired, and Macy's responded with an opposing suit, according to a 2011 press release from Strategic Marks. Now, the two companies have settled, and Kassoff hopes to bring the community-focused department stores back to compete with national retail giants like Macy's.
"What people loved about Jordan Marsh — they did a lot of local marketing programs,'' he said. "They knew what the customer wanted. That's what we're going to get back to — the roots of retail.''
For Kassoff, that includes stocking products that are unique to New England, locally-focused marketing events, customer service, and baking the chain's once-famous blueberry muffins.
A lot has changed in the 20 years since the department stores were a regular sight in New England, so Kassoff said he plans to update the Jordan Marsh product and feel, but maintain the hyperlocal atmosphere.
"You do have to bring these stores and bring them into the 21st century, but hey, personal selling has not changed,'' he said. "We have to kind recapture the magic of these stores.''
The department stores will first reappear online as part of retrofashionmall.com, Kassoff said. He plans to have a mall map based on the country's geography, placing each brand back in its original market. After that, Strategic Marks plans to reopen physical stores under the trademark names and is already in talks with mall owners and investors about moving that strategy forward.
While the new stores might be smaller and fewer in number than in the original retailers' heydays, Kassoff said he hopes increasing competition will provide a better experience for shoppers.
"You can see what happens when you lack competition,'' Kassoff said. "The quality of Macy's — and the sales — has gone down. We hope to create competition — it only benefits the consumer.''
Macy's did not immediately respond to request for comment.
h/t Boston Herald