Local
TD Garden's owners want to put a ferris wheel outside of Boston City Hall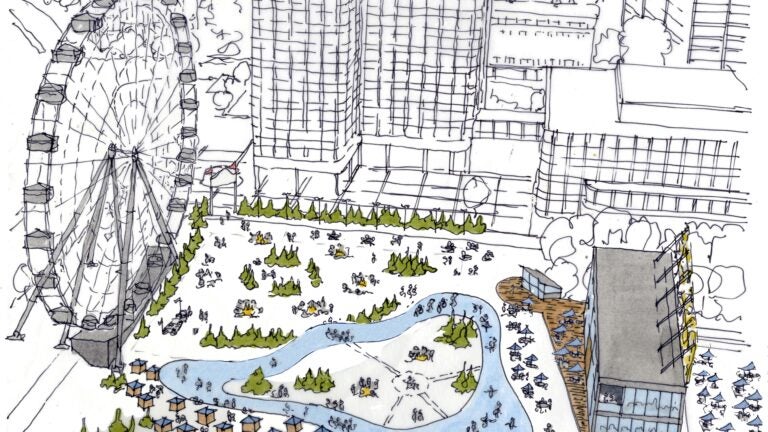 Dining, ice skating, beach lounging—and maybe even a ride in a ferris wheel that towers over it all. Those probably aren't the kinds of ideas you associate with Boston's City Hall Plaza.
But they might be soon, the city said Thursday. The city announced in a news release that it had selected the owners of the TD Garden for a three-year contract to "reimagine'' the drab sea of brick and concrete that engulfs City Hall.
Boston Garden Redevelopment Corporation, a subsidiary of Garden owner and hospitality giant Delaware North Cos., was selected from three companies that applied for the gig.
Mayor Marty Walsh last year unveiled fake grass and lawn chairs on the plaza as a way to make it more welcoming. The new proposal—which is not final and subject to change—dwarfs that measure significantly.
Perhaps the most audacious idea: a large "observation wheel,'' or a ferris wheel modeled on similar ones in London and other cities.
The proposal also includes:
• A temporary two-story structure housing restaurant, complete with a liquor license, to be run by a Delaware North-owned restaurant group. Additionally, new food and beverage options would serve commuters near Government Center station "especially during the busy rush hours.''
• A winter "ice park,'' which would be distinct from a traditional rink, instead offering a trail to skate during the season;
• An "urban beach'' during the summer, which would involve placing sand, umbrellas, and chairs on a portion of the plaza;
• Plans for local programming and concerts that Delaware North says "could be complemented by our experienced booking and marketing teams.''
Charlie Jacobs, the CEO of Delaware North's Boston Holdings, including the Boston Bruins, stressed that the proposal is "fluid'' and what the plaza will ultimately wind up hosting remains to be seen. He said the company will negotiate a contract with the city in the coming weeks.
"We'd like to roll up our sleeves and get started next week, and we will do that by having discussions with the city,'' he said in an interview. "It's a fluid process. I'd like to see us get going by spring.''
Jacobs said no city money would be used to fund the new amenities. The company would make money through certain aspects of the new-look plaza, such as food and beverage sales or skate rentals. The contract with the city will likely include a revenue sharing provision that would net the city some money as well, Jacobs said.
The full proposal is embedded below.
[fragment number=0]