Local
Bernie supporters call for revote, arrest of Bill Clinton for Mass. poll controversy
Sanders fans say he committed election malfeasance on Tuesday.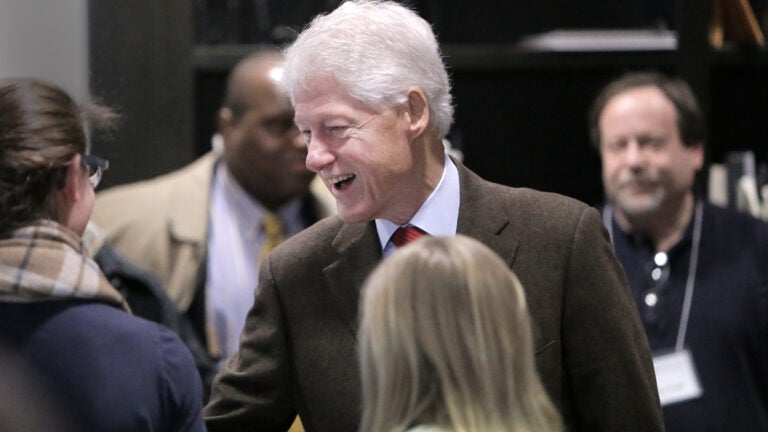 Almost 100,000 people have signed a petition that calls on Massachusetts Attorney General Maura Healey to arrest and prosecute President Bill Clinton for allegedly committing a "3rd degree Voter Violation Felony'' on election day.
"This is a call for the immediate arrest of President Bill Clinton for clear, knowing and egregious violation of the campaign laws to swing an election in a significant way,'' the petition reads. "Choosing the critical battleground state of Massachusetts, Bill Clinton should immediately be subject to arrest and prosecution.''
In addition, a smaller group of Bernie Sanders supporters will hold a rally at the State House on Saturday afternoon to call for a revote. A Facebook event titled "Stop the Clintons from Stealing the Election – Revolt for a Revote!'' has just over 100 committed attendees.
The accusations began after Clinton and Boston Mayor Marty Walsh went inside a polling place in West Roxbury on Tuesday to shake hands, chat up voters, pose for photos, and thank election volunteers. A spokeswoman for Walsh's office said that the two were not campaigning inside the polling place.
[fragment number=0]
Clinton also visited the Newton Free Library, another polling place, to greet voters.
Later on Tuesday, the former President spoke through a megaphone to a large crowd near a New Bedford polling place, urging people to vote for his wife Hillary Clinton. Some critics said that the rally closed-off streets and could have blocked people from voting.
State law forbids some campaign activities, including the solicitation for or against a candidate and passing out campaign materials, within 150 feet of a polling place.
The maximum punishment for violators is a fine of $20.
The Change.org petition says that "Clinton indeed must have known the law and chose to violate it,'' and calls on Healey to "hold Bill Clinton accountable for the felony of his actions.''
Election violations are handled by the Secretary of the Commonwealth William Galvin's office, not the Attorney General.
Brian McNiff, a spokesman for Galvin's office, said that Clinton did not commit a violation, South Coast Today reports.
A spokesman for Galvin said his office reminded the Clinton campaign of the 150-foot rule on Tuesday after the West Roxbury and Newton visits, and clarified that the New Bedford rally was OK.
"It's unusual to have someone outside having a rally, that's for sure,'' Galvin told The Boston Globe. "But voting was never interrupted, and voters could always get access to the polls.''
Hillary Clinton won the Democratic primary in Massachusetts on Tuesday with 50.1 percent of the vote. Bernie Sanders received 48.7 percent support, a difference of about 17,000 votes.