Local News
7 things you need to know about the proposed Massachusetts laws for Uber and Lyft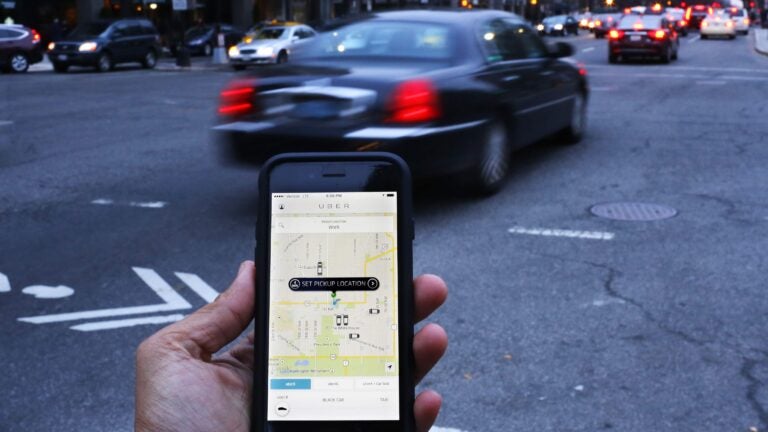 After months of deliberation, Massachusetts lawmakers unveiled a new bill Friday that would provide government oversight of smartphone-enabled hired ride services like Uber and Lyft.
Legislators have described finding ways to govern the companies as a priority during the ongoing legislative session, which ends in July. Here's what the bill in its current form would mean for riders and drivers:
1. No fingerprints for drivers: Uber and Lyft will be relieved to see drivers won't need to submit to a fingerprint background check, one of the most talked-about potential provisions prior to the bill's release. Uber and Lyft have vigorously opposed fingerprinting, saying the practice is discriminatory to applicants who were arrested but not convicted. They also fear that the measure could deter drivers from signing up, because they would not want to go to a fingerprinting location and pay for it, since the companies' existing background checks begin when drivers enter their information online.
2. But there will be a background check: Two, actually. The companies will be required to conduct their own, and the second would also be conducted by a new division of the Department of Public Utilities that would specifically oversee the industry. That check would involve a search for traffic violations within the last three years, past convictions in the last seven years, and any other offense that the division determines disqualifying. Rep. Aaron Michlewitz, who led the drafting of the bill, said it would be "the most comprehensive background check in the country.''
3. And some other safety measures: All cars will need to be 10 years old or younger, and undergo an annual inspection separate from normal vehicle inspections. Anybody caught driving using somebody else's driver certificate, or any certified driver who allows somebody else to do so, could be sentenced to six months and/or fined $10,000. Insurance provisions would be similar to those in other states that regulate Uber and Lyft, Michlewitz said, which largely align with how the companies already do business. But the Massachusetts bill includes one tweak: All drivers would need to tell their personal carriers about their ride-share habit. "It's more transparency for the insurance company,'' Michlewitz said.
4. Cabs get preference at Logan: The bill gives a little bit of a leg up to the taxi and livery companies that have been outspoken in their opposition to Uber and Lyft in a couple of big places: the Boston Convention and Exhibition Center and Logan Airport. In both places, Lyft drivers and Uber drivers who are not registered as livery drivers—so, drivers on the UberX platform—would not be allowed to pick up rides at those locations for five years. Riders would still be able to take trips to those locations. And for Uber drivers, that actually represents the status quo: Currently, Uber only dispatches livery drivers to Logan.
5. They also get some assistance: The bill calls on the Massachusetts Growth Capital Corp., which assists small businesses, to develop products to help small cab companies transition to new technology, protect loans that finance the work (such as the cab medallions that serve as a municipal license to operate), and more.
6. It will be easier to see the car from afar: Drivers would be required to put removable decals on both the front and the back of the car while driving for Uber or Lyft.
7. Surge pricing may come down: The new regulatory division would be tasked with creating rules that "ensure that transportation network companies and drivers do not use excessive minimum rates or base rates,'' as commonly happens when demand is high. The companies would also be restricted from raising fares during states of emergency, such as blizzards.