Local
MBTA approves fare hike amid chaotic protest
Protesters disrupted the meeting with shouting and boos, nearly drowning out the vote.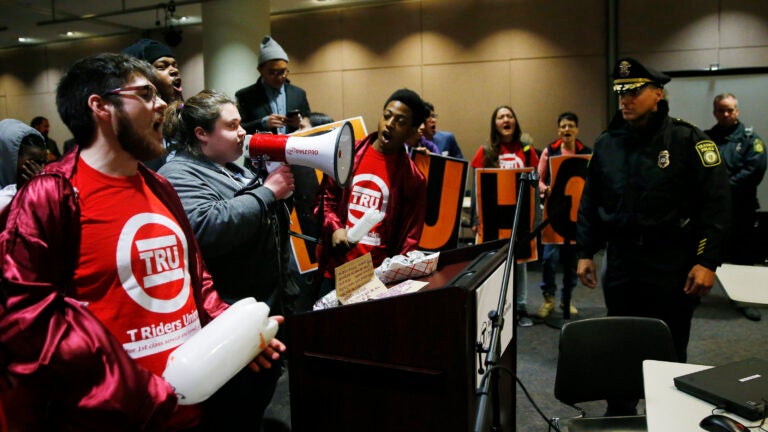 Greater Boston public transit officials unanimously approved a system-wide average fare hike of 9.3 percent amid shouts and boos from protesters who plunged the board meeting into chaos.
When members of the Massachusetts Bay Transportation Authority's control board gathered Monday to cast their votes, protesters crowded the room to boo and chant phrases like, "fight the hike,'' and "this board is corrupt,'' drowning out officials' proposals. It was difficult to discern what board members were saying through the shouting.
The new fares will take effect July 1. Under the proposal, the cost of a subway ride using a stored-value CharlieCard will increase from $2.10 to $2.25, and bus rides paid for with CharlieCards will rise from $1.60 to $1.70. Monthly passes for bus and subway riders will go from $75 to $84.50. Most commuter rail monthly passes will jump by 10 percent, and the increase for individual commuter rail rides will range from 7.1 to 10 percent depending on distance traveled.
The board, which was installed in July as part of a T reform effort by Gov. Charlie Baker, had been considering two options: a system-wide average increase of 6.7 percent or a 9.8 percent increase. Each would have raised some individual fares by 10 percent or more.
As officials discussed a new fare hike proposal that looked similar to the previous 9.8 percent increase plan but cut breaks for students, monthly bus passes, and the RIDE (the MBTA's paratransit system), they were interrupted by Caroline Casey of the T Riders Union, which led the protest.
Casey stood up, megaphone in hand, and announced that protesters would work to block any fare hike, arguing that none were necessary to fund the MBTA. Instead, the group believes the T should rely on other resources such as increased state funding, and not riders.
"This is a people's takeover,'' Casey said.
"They say cutback, we say fight back,'' protesters later chanted.
[fragment number=0]
[fragment number=1]
A few minutes in to the protest, the board announced it would take a recess, but its absence didn't stop protesters, who had hinted last week that they would publicly object to the hike. Lee Matsueda, a community organizer for Alternatives for Community & Environment, the umbrella organization for the T Riders Union, said that protesters planned to stay until they were arrested.
However, Secretary of Transportation Stephanie Pollack said the board decided to proceed with the meeting without involving police or changing venues.
"The control board felt it was more in keeping with the open-meeting law to continue the meeting despite the disruption than it would have been to physically remove those folks from the room,'' she said while speaking with reporters after the meeting.
When board members returned from recess, they were greeted by familiar and deafening boos and chants, but deliberated despite the noise and demonstration in front of them. They eventually cast their votes in support of the new hike as the protest sustained.
[fragment number=2]
[fragment number=3]
Pollack said she felt it was "a real pity'' the meeting was interrupted. She said some rider concerns were addressed by inaudible board resolutions during the protest.
For example, she said, the cost for bus rides will actually decrease for riders who do not use a CharlieCard and pay with cash, from $2.10 to $2.
Monthly bus passes, student passes, senior passes, and the RIDE will all see increases, but smaller ones than previously planned.
Monthly student passes will go from $26 to $30, and schools that buy the passes in bulk will pay $29 per pass. The T had previously proposed a $32 price. The pass will also be available to students for 12 months a year. It is currently only available for 10 months a year.
Monthly senior passes will increase from $29 to $30, as opposed to the previous $32 proposal. Prices for the RIDE will go up 15 cents, to $3.15, compared to a prior recommendation of 25 cents. And bus passes will increase from $50 to $55, against a previous proposal of $59.75.
The board also voted to create a "lockbox'' where new revenue from the fare increase—projected at $42 million next fiscal year—will go. The money will not be put toward closing the T's operating budget gap but instead be used for short- or mid-term repair work, and can only be distributed by a board vote, Pollack said.
Pollack said the move was intended to assure riders that new fare revenue "will only be used for service improvements for MBTA riders.'' Many riders have said they don't believe the T should increase fares given the T's poor general performance.
Board members additionally said they backed the idea of keeping the new fares in place until January 2019, which would hold them steady for 2.5 years. (The T is legally allowed to increase fares every two years.) And the board directed staff to produce reports on potential means testing for low-income riders and fare evasion policy.
Following the meeting, board member Brian Lang said the board made "accommodations and mitigations that will affect low-income riders in a positive way.''
Lang, who in his day job works as president of the UNITE HERE Local 26, said of the protest: "I'm used to that all the time. I'm the president of a union. That doesn't faze me.'' He said protesters might approve of the fare hikes once they get a chance to review some of the measures the board passed.
But transit advocates who had urged the T to keep fare increases to 5 percent or lower said they were disappointed in the plan, even with the provisions.
"While we are glad the control board pulled back on some of the most draconian proposals, the adopted fare increase, overall, will hurt families and commuters,'' Kristina Egan, director of the advocacy group Transportation for Massachusetts, said in a statement. "The burden of rebuilding a broken system must not fall entirely on people who ride the MBTA, or the MBTA risks a downward spiral.''
Rafael Mares, a vice president at the Conservation Law Foundation, said setting aside fare money for repair work didn't blunt the impact of the increase.
"They just reached into people's wallets to set up a reserve fund,'' he said. "They could have just waited until next year. It seems greedy to me.''
"The Fiscal and Management Control Board is only seven months into its tenure, but one day, the bean counting will have to give way to a real business strategy,'' he added. "Today, unfortunately was not that day. A business, let alone a public agency, cannot thrive if it ignores its customers' financial challenges and legitimate pleas.''
The fare hike will mark the third since 2012. The protest came on the same day more than 1,000 Boston public school students walked out of class and marched to call for more education funding.
[fragment number=4]
Amanda Hoover contributed to this report.