Local
MBTA fare hike decision expected Monday
The T's board has been considering a couple of fare hike options.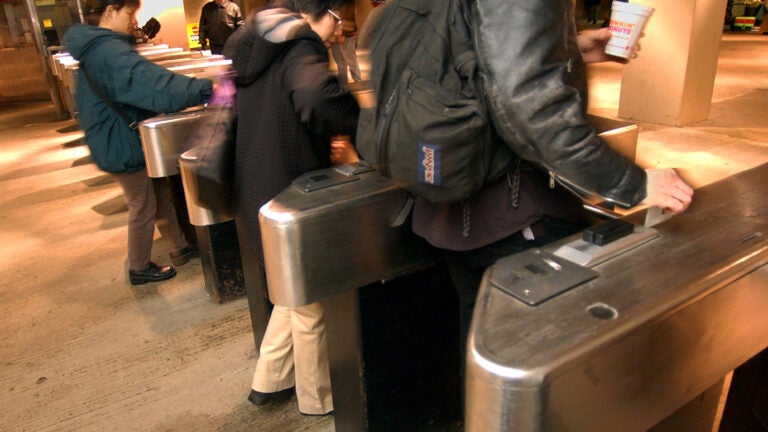 T riders can expect to learn on Monday how much more their commutes will cost starting this summer, as the Massachusetts Bay Transportation Authority's control board is scheduled to vote on fare increases that would take hold in July.
The board has been weighing two options. One would increase average system-wide fares by about 6.7 percent, the other by 9.8 percent. Under both proposals, some individual fares could increase by 10 percent or more. For example, monthly bus and subway passes could increase by between 10 and 12.7 percent. (You can see the full list of fare hike proposals here.)
The proposal the board winds up voting on could be tweaked from those two formats. Officials have indicated some willingness, for instance, to budge on a 23 percent hike in student passes. Boston Public Schools, which covers the costs of more than 20,000 student passes, says that proposal would cost the district about $1.4 million next year, at a time when it already faces a budget deficit.
Throughout the fare hike debate, transit advocates have alternatively called for the T to limit increases to 5 percent—a limit they say relevant law intended to impose—or to not increase them at all.
Advocates believe their argument was bolstered last week when the T said it has beaten down a projected budget deficit for next year by more than 40 percent, to about $138 million. Fare hike opponents say that should relieve some of the pressure to generate revenue through riders' wallets.
The T, however, says the new deficit projection already presumes a 5 percent fare increase, and that it could still use an even greater hike in order to fund repair work next year. The agency also defends the proposed fare hikes by arguing they would still be lower than many other transit agencies across the country.
Monday's meeting may prove rambunctious. The effort to lift fares has already drawn countless comments from the public during the meetings and hearings on the proposals, which have trended negative.
Members of the T Riders Union, a transit advocacy group organized by the Roxbury nonprofit Alternatives for Community & Environment, have perhaps been the most vocally opposed to the hike, and have hinted they could take to civil disobedience over the possible increase. Community organizer Caroline Casey last week told the board the group could "protect riders and the system by blocking a corrupt vote from taking place.''