Local
Senators say marijuana legalization is not a pot of gold
State senators say the myriad new costs associated with regulating marijuana would offset any revenue gains for Massachusetts.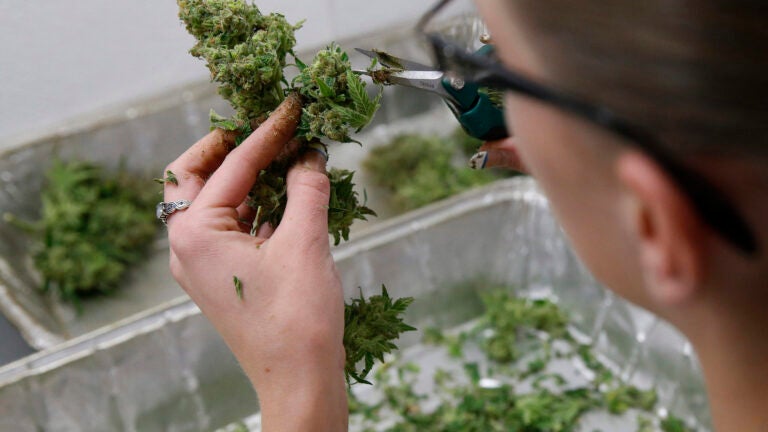 One of the common arguments in favor of legalizing recreational marijuana is that taxing it could be a boon to state revenue.
But a group of state senators tasked with studying the issue—which will almost certainly come before voters as a November ballot question—cast their doubts on that assumption while unveiling a study about legalization on Tuesday.
At a press conference, state Sen. Jason Lewis, who chaired the committee, said that after paying the myriad new costs associated with regulating marijuana, the state would be lucky to break even. To ensure that regulatory costs are covered, he suggested tax rates should be higher than the ballot question, which calls for a 3.75 percent excise tax on all sales and allows cities or towns to impose their own taxes.
"We think it's very important that the tax revenue and license fees generated from the industry at least, at a minimum, cover all of the public costs that would be incurred,'' Lewis said. "Setting up a whole regulatory system, enforcement, legal costs, administrative costs, training for law enforcement and local government, public health. … You add up those numbers, you very quickly get into the tens of millions of dollars.''
Lewis said the tax rate would need to remain low enough to prevent people from relying on the black market. The report did not specify potential tax rates, but Lewis said an excise tax on growers, a separate sales tax on retail sales to supplement the existing state sales tax, and local tax options would be appropriate.
"We estimate the tax revenues and license revenues in the $50 to $60 million range on an annual basis,'' Lewis said. "We think that may not even be sufficient to cover the full gamut of public and social costs we would incur.''
Lewis said legalization could have other economic benefits, including new businesses, new jobs, and "pot tourism.'' But the senators' report said legalization "should not be expected to provide a significant new funding source for other public needs such as education or transportation.''
Jim Borghesani, spokesman for the Campaign to Regulate Marijuana Like Alcohol, which is pushing the legalization question, said the group disagreed with the senators' assessment.
"We think we'll generate sufficient revenues to cover the regulatory structure,'' he said. "And then on top of that, revenue to go into the general fund. … The legislature can put that funding toward anything—more treatment beds for opiate addiction, more drug education awareness.''
He pointed to Colorado, which legalized recreational marijuana in 2012 and generated $135 million in tax and fee revenue last year. He said regulation is more than covered with the revenue there, some of which has gone toward school construction funding.
During the press conference, Lewis noted that the money goes to school construction because Colorado's law requires it. He added that, unlike in Massachusetts, Colorado medical marijuana is taxed and recreational sales are taxed at a higher rate than they would be here.
Borghesani did not outright oppose legislators' recommendation that taxes could be made higher if the ballot question passes.
"If they want to raise taxes a little bit after that, they can, but they have to be very careful because the whole intent is to get rid of the illicit market,'' he said.
The senators sounded deeply cautious of — if not outright opposed to — legalization during the press conference. But they said they would respect the will of the voters and not block legalization if the ballot question passes this year.
However, they suggested they might tweak it. And the report the committee issued was loaded with a number of recommendations that would do so, including possibly prohibiting home-grown marijuana. (The ballot question would allow for up to 12 plants to be grown for personal consumption per household.)
The senators' report, which can be read in full here, also expressed concerns about impaired driving and increasing youth access to the plant.
Borghesani criticized the report as "not a deep dive.'' He said the senators had "abdicated their responsibility to legislate'' by suggesting tweaks to the ballot question while not taking the issue up themselves.