Local
A strolling moose slows traffic in Belchertown
"You really don't want to startle it and spook it because you don't know what it's going to do.''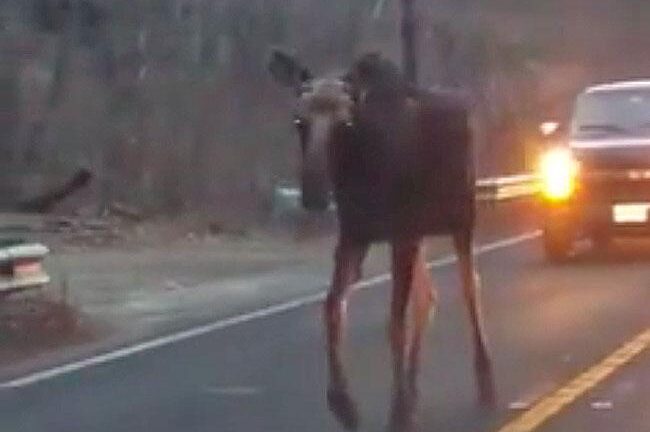 Motorists in Belchertown were forced to brake for a large moose in traffic on Thursday.
Belchertown resident Ethan Bloomfield captured the incident on video and shared it on his Facebook page. It has been viewed more than 100,000 times.
"I was actually kind of nervous,'' said Bloomfield about being so close to the moose.
He said he had visions of it jumping on his car.
Bloomfield was on his way to a meeting just before 7 a.m. when he saw a car ahead of him in the distance with its lights flashing and what he thought was a person walking down the middle of the street in front of it, he said.
"As it got closer, I saw that it was a giant moose,'' he said.
That's when he grabbed his phone and began taking video.
The video shows a line of cars, with their hazard lights on, following the moose as it walked — ever so slowly — on Route 9.
Belchertown Animal Control Officer Anna Fenton said motorists reacted correctly.
"Slow down and let it go where it's going,'' said Fenton. "You really don't want to startle it and spook it because you don't know what it's going to do. It could wind up running into oncoming traffic.''
Fenton said it's not uncommon to see moose, deer, and even bears in the western Massachusetts town.
"We have lots of wildlife,'' she said.
This isn't the first moose to cross Route 9, which is heavily traveled by wildlife, said Fenton. A couple of years ago, a mother moose and her baby crossed the same road.
Bloomfield said he's surprised by the moose mania he's experiencing today — all the social media shares and friends who have reached out with reactions.
"I told my friends, 'Everything I've ever posted, none of you have ever shared [until now]. I'm way more interesting than a moose!'''
[fragment number=0]