Local
5 things to know about the new Government Center T station
It opens March 21.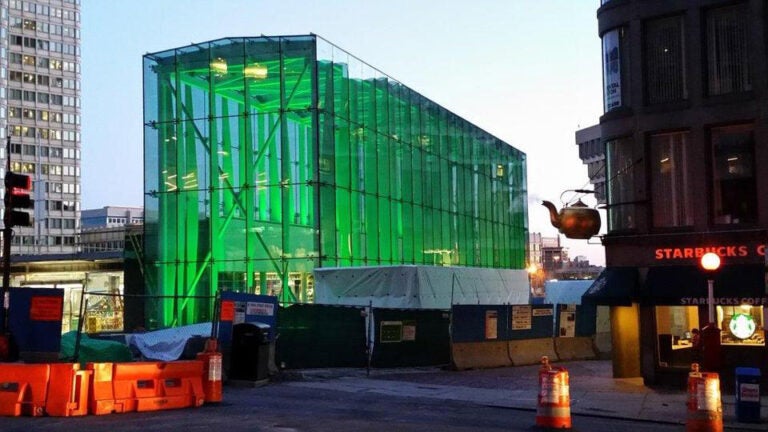 Government Center station officially reopens one week from Monday. After sitting shuttered for two years for renovations, the Massachusetts Bay Transportation Authority's 17th busiest rapid transit station will open after a midday ribbon-cutting ceremony on March 21.
Here are five ways it will affect Boston commuters:
1. The station will now be wheelchair accessible.
Making Government Center wheelchair-accessible was the primary reason for the renovation. The station will now be equipped with two elevators each for the Blue and Green lines, and its platforms will now slope to better serve commuters in mobility devices.Before the renovation, Government Center was the last remaining station where two subway lines meet that wasn't accessible. Which brings us to the second thing to know…
2. Green Line-Blue Line commuters, rejoice.
Government Center is the only link between the Green and Blue lines, so riders relying on that connection haven't had the easiest go of it in the last 24 months. In one week, they won't need to hoof it or insert an Orange Line trip between Green Line and Blue Line stations anymore.
3. You'll have an easier time getting in.
The new station will include an expanded lobby and more fare gates than it previously had. Events at City Hall Plaza will still be busy, and rush hour will still be rush hour. But the additional gates, along with a new configuration for the stairs and escalators, should improve the previous bottleneck commuters experienced walking into the station, said T General Manager Frank DePaola. "So, when there's a Garden event or a City Hall plaza event, we'll be able to move a lot more people through,'' he said.
4. Let there be light.
Calling the old Government Center station's lighting "dim'' would be a charitable description. With a new, glass-paneled entrance ushering in natural light, as well as new lighting on the platforms, the refurbished station will be considerably brighter.
5. It might be haunted. And it definitely has some history.
Workers made a bizarre find just before Halloween last year when they dug up a couple of creepy ghost costumes that had been entombed in the Blue Line platform concrete for at least 60 years. That wasn't the only big find from yesteryear. Behind wall coverings, workers also found mosaic signs reading "Scollay'' and "Scollay Under,'' harkening back to the days when what's now City Hall Plaza was part of a bustling neighborhood called Scollay Square and the station bore its name. The four tiled, century-old signs have been restored and will be on display in the station.