Local
Owen Labrie accused of violating curfew condition of release, could face detention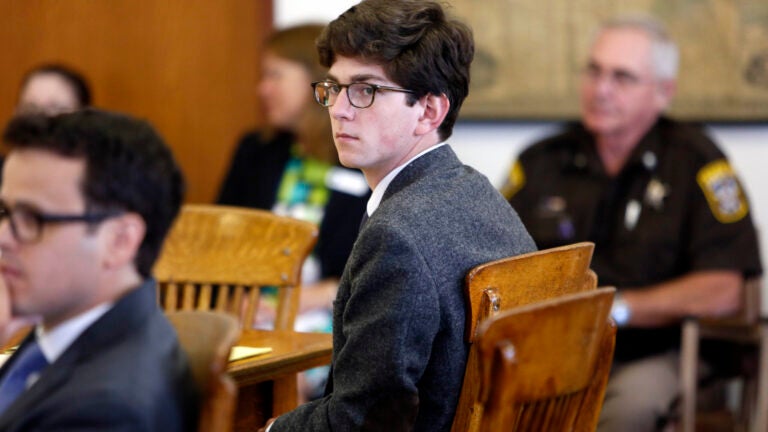 Owen Labrie, the graduate of a prestigious New Hampshire prep school who was convicted of sexually assaulting a 15-year-old student, is now accused of violating the curfew conditions of his release and could have his bail revoked.
New Hampshire prosecutors have filed an expedited motion to schedule a hearing to review Labrie's bail and the conditions of his release, according to court documents. The violations came to the prosecutors' attention after a journalist posted a conversation to Twitter she had with Labrie while riding the Red Line in Cambridge, the document stated.
The motion states that "there is clear and convincing evidence that the defendant has violated the above-noted condition of his release, and that he is unlikely to abide by an condition of combination of conditions of release,'' and asks the court to issue a revocation and detention of Labrie pending an appeal of his convictions.
The document does not name the journalist who tweeted about speaking with Labrie. But Susan Zalkind detailed a conversation she had with Labrie while riding the T in February on both Twitter and in a VICE article. Zalkind recognized Labrie from covering his trial last summer, and introduced herself to him. He greeted her warmly, telling her he was visting his girlfriend, who studies at Harvard, and that the two met during his senior year at St. Paul's School — around the same time the sexual assault incident occurred.
Labrie was riding the train after taking her out for brunch, and said he was just starting to reenter society after spending the past few months at home in Vermont. He told Zalkind he's been approached by strangers who recognize him. Some offer their support, others have mimed punching him in the face.
Labrie's curfew mandates that he remain at his mother's home in Tunbridge, Vermont from 5 p.m. to 8 a.m. After the exchange shed light on Labrie's travels, an investigation into Labrie was opened and prosecutors are now alleging that he has failed to comply with his curfew and traveled outside of its parameters at least eight times.
Labrie, 19, has been out on bail since his conviction as he awaits a decision on his appeal of a felony conviction for using a computer to solicit the girl. He was also found guilty of three charges of misdemeanor sexual assault of a female classmate in May 2014, and a misdemeanor count of endangering the welfare of a child.
Labrie's attorney, J.W. Carney, did not immediately respond to request for comment.