Local
Police arrest 24 people in alleged cockfighting ring
They seized 18 roosters, five of them severely injured.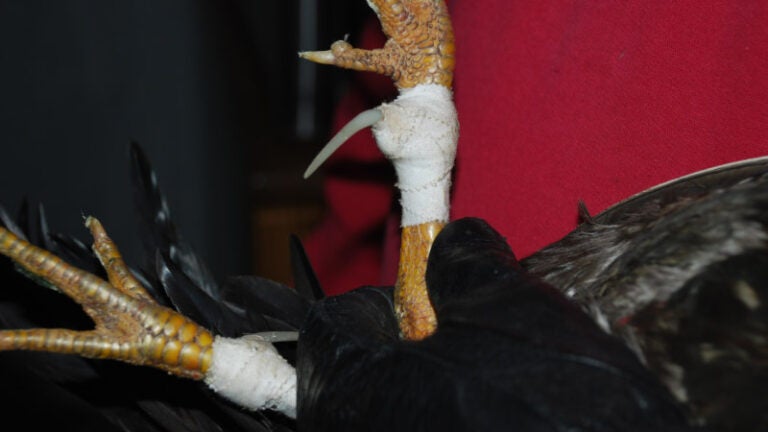 Police arrested 24 suspects in an alleged cockfighting ring bust in Tewksbury.
Tewksbury police, acting on a tip, walked into an alleged cockfighting ring taking place at a Tewskbury home on Friday night. Officers say the outside of the house at 969 Chandler Street was equipped with a look out, motion sensor lights, and video surveillance equipment.
When police went inside, they found 22 people participating in what they called a "cock fight.'' Some of the gamecocks had spurs attached to their legs, which allow the birds to inflict more damage to each other while fighting.
Police said they seized 18 roosters and $13,000 at the scene. Police also seized packages of spurs and four kits with tape.
Frank Castro, 41, of Dorchester, and his girlfriend Janet Montanes, 40, of Tewksbury, were both arrested and charged with cruelty to animals, being present at an animal fight, and keeping or promoting an animal fight, according to a statement from the Tewksbury police. The incident happened at Montanes' home.
The other 22 suspects, from cities and towns across Massachusetts and New Hampshire, were arrested and charged with cruelty to animals and being present at an animal fight.
Tewksbury Animal Control, the environmental police, and the Animal Rescue League of Boston responded to the scene, helping to recover the 18 roosters. Five of the roosters were "severely injured,'' according to police. Police do not know where they came from.
The suspects will be arraigned in Lowell District Court on Monday.