Local
Worker trapped under 80,000-pound vacuum truck rescued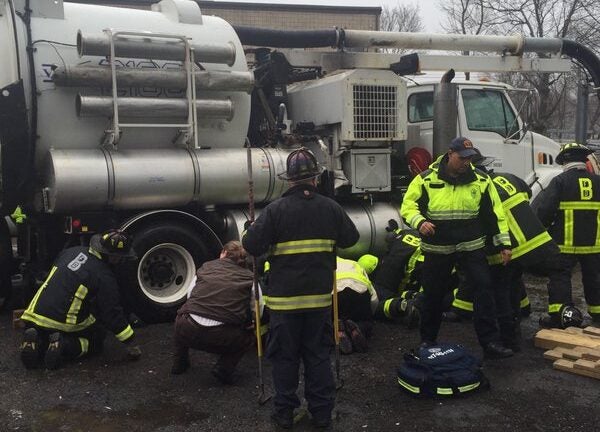 A worker was changing a tire Tuesday on a large truck in Roslindale when the tanker shifted, trapping him underneath, according to the Boston Fire Department.
Boston fire spokesman Steve McDonald said it took about half an hour for rescue teams to free the man, who was conscious and alert when he was pulled out from under the truck on Hyde Park Avenue. The man was immediately treated at the scene by emergency personnel before being transported to a local hospital, he said.
[fragment number=0]
One of the challenges for responders was the vacuum truck, used to clean out street sewers, was full and weighed 80,000 pounds. Firefighters had to lift the truck to pull the man out from where he was trapped under the holding tank, McDonald said.
"It's an example of their training paying off,'' he said, adding that the department has trucks that are "basically like Home Depots on wheels'' to "deal with situations just like this.''
Boston EMS and police were also on the scene.
McDonald said what caused the truck to shift is still under investigation.