Local
Elizabeth Warren and Ed Markey to Senate Republicans: Do your job
The two Massachusetts senators called on their GOP colleagues to allow a vote on President Obama's Supreme Court nominee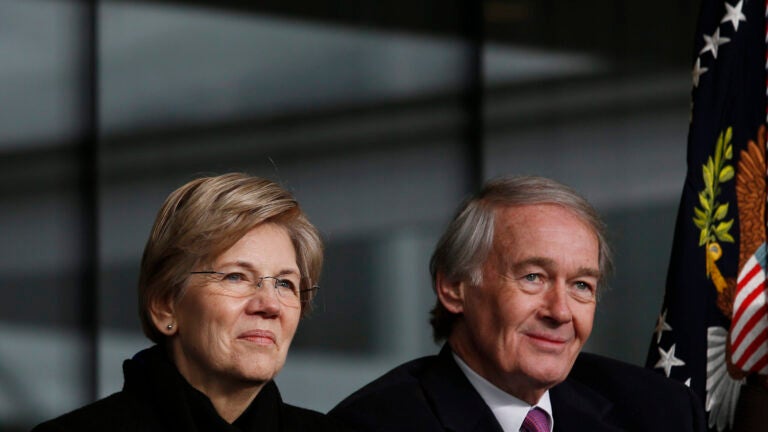 Channeling their inner New England Patriots, Massachusetts' two senators called out their Republican colleagues to "do their job'' and allow the Senate to vote on President Barack Obama's nominee to the Supreme Court.
In a statement Wednesday, Sen. Elizabeth Warren praised the new appointee — D.C. Circuit Court of Appeals Chief Judge Merrick Garland — noting the bi-partisan commendations received by the 63-year-old Harvard Law School graduate.
"President Obama has done his job – selecting a nominee and sending that nominee to the Senate – and it's time for the Senate to do its job,'' Warren said.
However, in the wake of Justice Antonin Scalia's death, Senate Republicans have said they will refuse to meet with Garland or vote on his confirmation during President Obama's final year in office.
"It is a president's constitutional right to nominate a Supreme Court justice, and it is the Senate's constitutional right to act as a check on a president and withhold its consent,'' GOP majority leader Sen. Mitch McConnell said, per The Boston Globe.
Sen. Ed Markey mirrored his fellow Bay State Democrat's language in a statement of his own Wednesday.
"If Senate Republicans refuse to hold a hearing on Judge Garland's nomination, it will constitute an historic failure to do their job,'' Markey said. "Senate Republicans must do their job and give the American people the fully functioning Supreme Court to which they are entitled under the Constitution.''
Some Republicans, including New Hampshire Sen. Kelly Ayotte and Arizona Sen. Jeff Flake, have signaled they would be willing to meet with Garland or hold a hearing during the lame duck session following the November election.
According to an analysis by The New York Times, the Senate has never taken more than 125 days to vote on a Supreme Court sucessor's confirmation from the time they were nominated. On average, the nominee had been "confirmed, rejected or withdrawn in 25 days,'' though few were made during the final year of a president's term.
In their statements Wednesday, Warren and Markey said the delay tactics were a sign of disrespect.
"There is no magic asterisk in the Constitution, no fine print, that says 'not in an election year' or 'not during the last year of an opposition President's term in office.''' Markey said. "Senate Republicans' promise to block consideration of this nominee now leaves us with two vacancies, one on the Supreme Court and the other in their judgment and respect for the Constitution.
Warren said she planned on meeting with Garland and closely reviewing his record, in order to come to decide on whether she will vote in favor of his nomination.
"It is my hope that all Senators will show the American people that they respect the President of the United States, the Constitution, and Chief Judge Garland enough to do the same,'' she said.