Local
Ice Bucket Challenge co-founder Pete Frates to release memoir with authors of 'Boston Strong'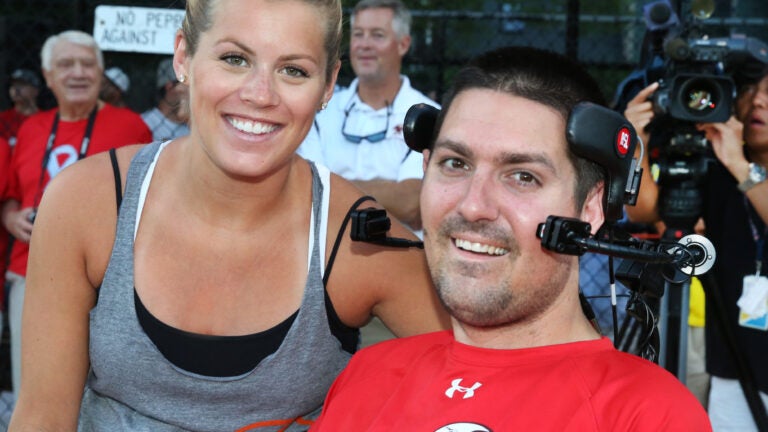 Pete Frates, co-founder of the ALS Ice Bucket Challenge, will be releasing a book with his family that chronicles his fight with ALS and the historic social media fundraising campaign.
Frates, a former captain for the Boston College baseball team and professional player in Europe, was diagnosed with ALS in 2012, at the age of 27. The ALS Ice Bucket Challenge, started by Frates, Pat Quinn, and Jeanette Senerchia in July 2014 to raise awareness and funds for the progressive neurodegenerative disease, helped raise over $225 million worldwide.
"I hope this book will serve as an inspiration to others and show them what can be accomplished through determination and through the love and support of family and friends,'' Frates said in a statement.
Bestselling authors Casey Sherman and Dave Wedge will interview Frates, his family members, and medical professionals working on ALS research for the book, according to a statement from the authors.
Sherman and Wedge are co-authors of Boston Strong: A City's Triumph over Tragedy, which is being used in-part as a basis for the Mark Walhberg-produced film about the marathon bombings, Patriots' Day.
Sherman is also the co-author of The Finest Hours, which was made into a film by Disney starring Chris Pine and Casey Affleck.
"The Frates story is also a love story,'' the authors said in a statement. "It's a love story between Pete and his wife Julie and their daughter Lucy, a love story between Pete and his mom Nancy, dad John, brother Andrew and sister Jennifer. It's a powerful story that shows how people all over the world can come together despite cultural differences and language barriers to do accomplish something incredibly positive for others. ''
The book will be put out to publishers for auction this spring and is scheduled for release in 2017.