Local
Attorney: Owen Labrie was studying, meeting with attorneys when he broke curfew
In a response to a request to revoke his bail, Labrie's defense attorney says he traveled to Boston and violated his curfew only to "pursue educational endeavors'' and meet with his attorneys.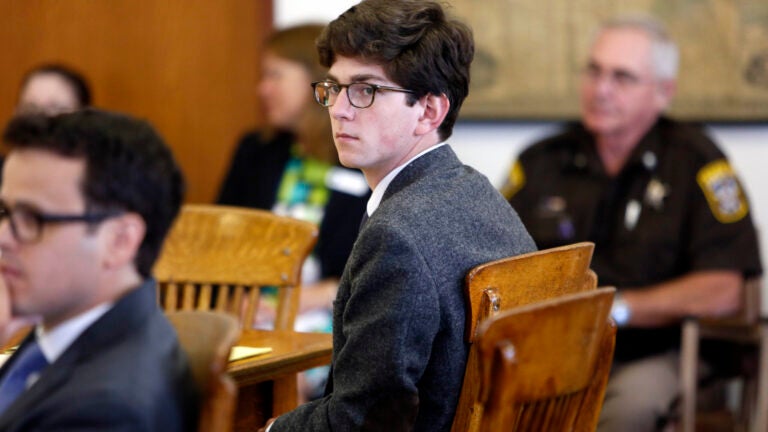 St. Paul's School graduate Owen Labrie was meeting with his attorney and "pursuing educational endeavors'' when he broke his court-mandated curfew, his attorney wrote in response to prosecutors' request that the convicted felon's jail be revoked.
"In his attempt to make productive use of his time and at the same time maintain some degree of privacy, he violated this court's order and for that he is sorry,'' defense attorney Jaye Rancourt wrote.
Labrie, 20, has been under a 5 p.m. to 8 a.m. curfew since he was convicted in August of misdemeanor sexual assault and a felony charge of using a computer to solicit the 15-year-old girl he assaulted. A Merrimack County judge sentenced him to a year in jail; Labrie is on bail pending his appeal of the felony charge.
On Monday, prosecutors asked for that bail to be revoked after an investigation — prompted by a reporter's tweets and subsequent story of her interaction with Labrie on a Boston train — found that he may have broken his curfew eight times. A hearing is scheduled for Friday afternoon.
Labrie is under the strictest curfew of the 23 people supervised by Pretrial Services in Merrimack County, Rancourt wrote, preventing him from getting a job or attending classes. A request in December to extend his curfew to the more common 7 p.m. to 6 a.m. daily was rejected, she said.
Prosecutors didn't specify Labrie's violations, but Rancourt did in her filing Thursday. Using information from Dartmouth Coach, a bus company, prosecutors found he traveled to Boston several times outside his curfew.
On two dates — Jan. 28 and Feb. 29 — Labrie left his home in Tunbridge, Vermont early to attend seminars and meetings required for his unspecified online education courses, Rancourt wrote. On both days, he took a 5:20 a.m. bus to Boston and returned on a 1:30 p.m. bus, meeting his afternoon curfew.
Feb. 29 is the date Susan Zalkind, a reporter who covered Labrie's trial, saw him on a Red Line train and then tweeted and wrote an article for Vice about the encounter. Zalkind wrote that Labrie told her he was meeting his girlfriend, a Harvard student, for brunch. (Full disclosure: Zalkind is also a Boston.com contributor.)
Rancourt wrote that Labrie feared disclosing his educational endeavors, predicting a "media blitz'' if they became known.
"Mr. Labrie has been all but prohibited from being a productive member of society due to his bail restrictions,'' Rancourt wrote. "He was attempting to make a good and productive use of his time by attending on-line education courses.''
The other curfew violations — two days in October, and two days in February — were for meetings with Labrie's attorneys, Rancourt wrote. In October, before his sentencing, he met with his trial attorney J.W. Carney Jr., she wrote.
In February, he met with civil counsel on two days, Rancourt said. (The victim's family has indicated they may file suit against St. Paul's School and others in connection with the assault.)
Labrie requested permission from pretrial services to travel on these dates, Rancourt wrote. She added that it was "unreasonable'' for Labrie to need permission to meet with his attorneys.
Rancourt said none of the violations are evidence that Labrie is unlikely to abide by any condition of release. He would be able to abide by his bail if he was allowed to have a more typical curfew and permission to travel for school, she wrote.
Read the defense filing:
[fragment number=0]