Local
Bobby Orr statue will leap to new location near the TD Garden
And the Garden's entrance sign will be taken down as construction around the arena continues.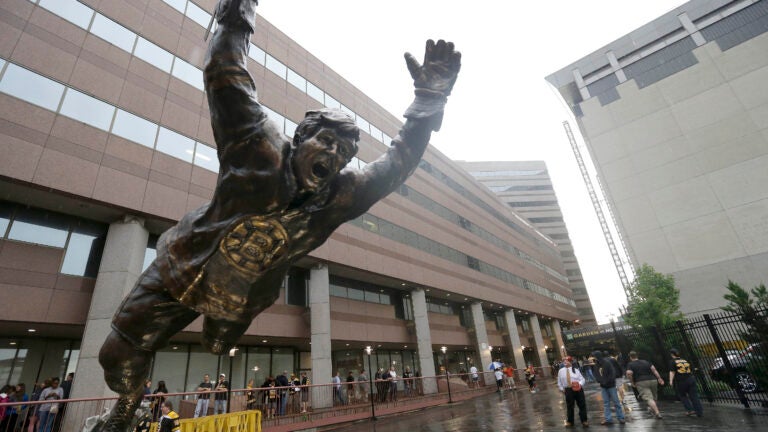 The statue of Bobby Orr outside TD Garden's western entrance depicts the iconic moment the Bruins legend flew through the air after winning the 1970 Stanley Cup with an overtime goal.
But after nearly six years in its current location, the bronze Bobby will soar to the other side of the arena. Garden crews will move the statue to Portal Park, a small patch of green off the arena's eastern border, in the near future.
The moves come as construction continues at Garden owner Delaware North's "Hub on Causeway'' complex in front of the arena. The first phase of the project, scheduled for completion in 2018, will feature a plaza lined by a movie theater, sports bar, a supermarket, and more directly across from Canal Street, leading to a new central entrance to the Garden and North Station. Later phases are expected to bring a residential tower, a hotel, and an office building.
The leaping Orr isn't the only landmark losing its spot along the western side of the venue. The Garden plans to dismantle the ground-level, back-lit TD Garden sign that meets patrons as they turn toward the western entrance off of Causeway Street.
Both changes will occur in the coming weeks, according to a post on the Garden's website.
[fragment number=0]
The construction will also force more immediate changes for pedestrians around the Garden starting this week.
Construction will keep pedestrians from the Garden's "west plaza,'' where the statue and sign are located. The stadium's western entrance will remain open, but fans will access it through a narrow path of scaffolding off Causeway Street.
The construction will also shut down the sidewalk along Causeway Street in front of the Garden for the next three years.
It's the same project that prompted the MBTA the shutter the North Station subway entrance adjacent to the Garden. Losing the entrance has forced commuters to exit the subway station and cross Causeway Street to reach the commuter rail platforms. That closure, too, is slated to last three years, when a new underground connection between the commuter rail and subway is scheduled to open.
After spending time on Portal Park, Orr's statue will eventually move to the new entrance plaza, according to Garden spokeswoman Tricia McCorkle.
As for the TD Garden sign that greets visitors today? The structure could be used to fasten new letters—spelling BOSTON—and wind up sitting on City Hall Plaza. The Garden's owners recently won a bid to spruce up the barren brick plaza, and its proposal to the city said the reworked sign could serve as "the ultimate new Boston selfie destination.'' But Delaware North's Boston chief, Charlie Jacobs, has been quick to caution that everything in the proposal is just an idea.