Local
This Vermont ski area's sign sums up the 2016 season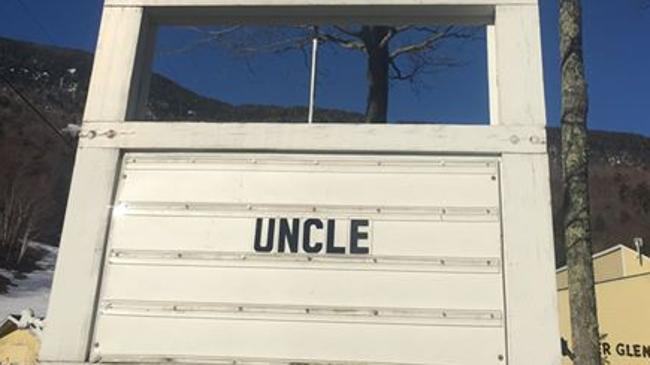 This was not an ideal winter for Mad River Glen. Though mostly friendly to New Englanders' commutes and certain public transit systems, the 2016 season has been rough for the region's ski areas.
"Mother Nature has forced us to 'tap out' on the 2016 ski season,'' the Waitsfield, Vermont ski area's president, Jason Wimbley, and co-op board chair, John Stetson, wrote this week in a letter to skiers.
[fragment number=0]
[fragment number=1]
Despite the light-hearted signage, the reality for Mad River Glen was very grim.
According to Wimbley and Stetson, the slope was forced to lay of seasonal staff "very early'' into the season and full-time employees will face unpaid furloughs during the offseason.
Compared to the 225-inch yearly snowfall average, the ski area recieved just over 100 inches, often followed by rain, thaw, or both. It was the worst season in 35 years, they said, and the mountain was in the "most challenging'' financial system since the co-op was founded in 1995.
"Normally we budget for about 100 days of operation each season,'' Wimbley and Stetson wrote. "This year we only ran for 45 mostly unspectacular days.''
Additionally, last winter's record-breaking snowfall wasn't as much of a financial boon as many might think, according to Mad River Glen officials.
"Quite average in fact,'' the co-op responded to a Facebook commenter, who asked about last year's revenue.
"No x-mas, no MLK Weekend, brutal cold, more snow south, Boston folks couldn't get out of the city, then we went very long into the spring which always eats through cash'' the reply continued. "Bottom line is it was a great snow year but no record setter financially.''
Mad River Glen was far from the only New England ski area to have already called it a year. As Boston magazine's Garrett Quinn noted Thursday, all but one of Massachusetts' ski resorts have closed for the winter, among many other New England mountains to close early.
As Boston.com wrote last week, all six New England states set records for warmth this winter and, according to the National Oceanic and Atmospheric Administration, the lower 48 states had its warmest season in 121 years of record keeping.
New England could have a foot of snow coming its way this weekend. But for those, like Mad River Glen, that actually depend on the powdery precipitation for support, it will be too little, too late.