Local
Trooper killed in Mass. Pike crash honored across the state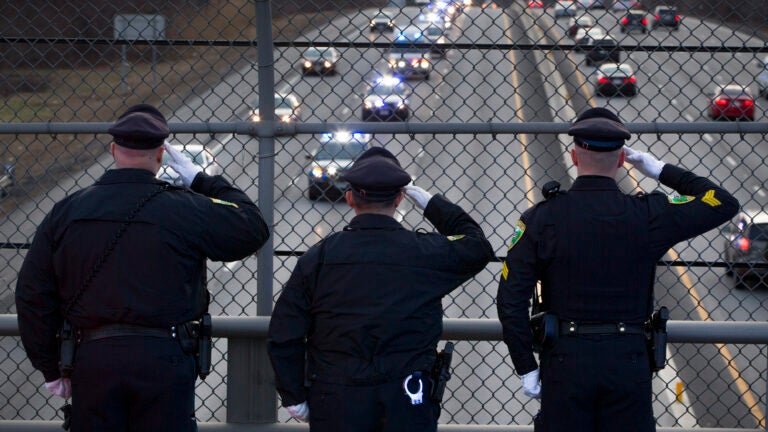 Flags across the state were lowered to half-staff Thursday to honor Trooper Thomas Clardy, who was killed when a car crashed into his cruiser, stopped on the side of the Mass. Pike in Charlton.
A flood of condolence messages from members of the public, government officials, and other law enforcement agencies also appeared on social media, Boston streets, and highway billboards.
"Lauren and I are deeply saddened to learn of the passing of Trooper Thomas Clardy who tragically lost his life in the line of duty,'' Gov. Charlie Baker said in a statement Wednesday. "Our thoughts and prayers are with his family, loved ones, fellow troopers and the entire law enforcement community during this very difficult time.''
Clardy, 44, was a married father of six children, ages 4 to 17. The trooper was parked in the breakdown lane, processing a traffic violation, when a Nissan Maxima driven by David Njuguna, 30, of Webster, crossed three lanes of traffic and careened into his cruiser.
The signs of solidarity and mourning are taking many forms — from state police honoring Clardy's memory on billboards throughout the state to other police agencies changing their social media profile photos to the Massachusetts State Police Badge, covered with a black badge shroud.
[fragment number=0]
[fragment number=1]
[fragment number=2]
State police troopers will wear the black band across their badges for the next 30 days.
On Facebook, state police thanked the members of the Boston police, DCR park rangers, and Boston firefighters who lined the streets of Boston's South End in droves with lights flashing to stand at attention as Clardy's body was transported to the Office of the Chief Medical Examiner Wednesday night.
[fragment number=3]
"In this difficult time, we have been touched by the show of support, from everywhere from our own backyard to the other side of our country and many places in between,'' the agency said. "Please keep the Clardy family in your prayers.''
"I am heart broken for the trooper and his family,'' wrote one commenter. "Such a senseless tragedy. My condolences to him his family and friends. I am so sorry for your loss. RIP.''
"So heartbreaking,'' wrote another poster. "My thoughts and prayers go out to his family, both blood and blue. May you all find strength in one another during this difficult time. Rest in peace Sir.''
First responders and members of the community turned-out again Thursday, on overpasses and on-ramps, to salute Clardy as his body was transported by a state police motorcade from Boston to Tighe-Hamilton Funeral Home in Hudson.
[fragment number=4]
A wake will be held for Clardy, who was also a Marine Corps veteran, on Monday and his funeral will be held Tuesday, both in Hudson.
Described by State Police Col. Richard McKeon as a great man, Clardy received three separate commendations since he joined the police in 2005.
In November 2010 and June 2011, Clardy was recognized for his work with fellow officers out of the Sturbridge barracks for work leading to a reduction in serious crashes in their area, according to state police. He was also among several troopers recognized for the apprehension of an armed kidnapper who'd taken a woman and 11-month-old baby hostage in 2015.
Njuguna, who remains hospitalized with serious injuries at UMass Medical Center, has been criminally summonsed for negligent operation of a vehicle and failing to stay within marked lanes. He will be arraigned in Dudley District Court.
Njuguna's license was suspended for 180 days in October 2013, and he was involved in an accident in 2012, according to The Boston Globe.
State police said Thursday the investigation into the fatal crash is ongoing.