Local
Judge sends Owen Labrie to jail for curfew violations
Judge Larry Smukler said it didn't matter why Labrie broke his curfew, only that he did.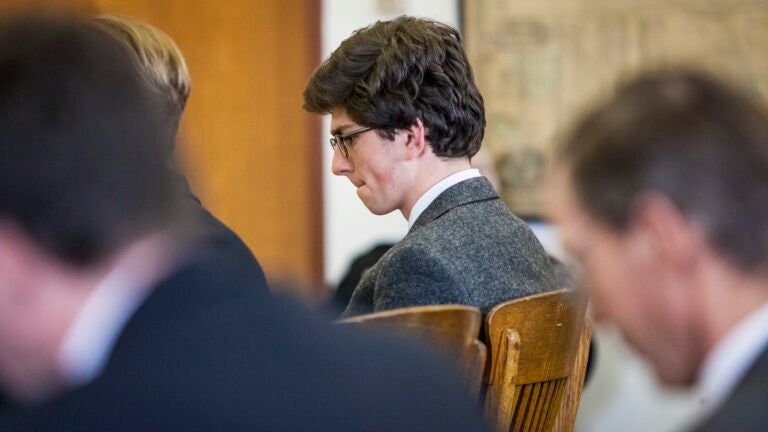 For Judge Larry Smukler, it didn't matter whether Owen Labrie was violating his curfew to study for his thesis, or hang with his girlfriend, or any other reason. He was still breaking the rules.
And so Labrie left Smukler's courtroom in handcuffs Friday afternoon. The 20-year-old was escorted out to spend his first night in jail.
Labrie — who would have been in his second year at Harvard — will serve the yearlong sentence Smukler imposed in October, after a jury found Labrie guilty of misdemeanor sexual assault and a felony charge of using a computer to lure his 15-year-old victim to an isolated room on St. Paul's School's campus for sex.
Just as he did when sentencing him last fall, Smukler noted Labrie's "credibility'' issue. Labrie testified that he and the girl never had sex. The jury didn't believe him.
Labrie could serve as few as eight months of his year sentence with good behavior, but he'll be registered as a sex offender for the rest of his life if he loses his appeal.
Prosecutors started investigating Labrie's travels after a chance encounter between him and a journalist who covered his trial on a Red Line train in Boston. It was 1 p.m. on Feb. 29 when Susan Zalkind talked to him; she later tweeted and wrote an article about their conversation. (Full disclosure: Zalkind is also a Boston.com contributor.)
The same detective who investigated the May 2014 assault began looking into Labrie's jaunts into Boston. Labrie had been ordered to be at his mother's home in Tunbridge, Vermont from 5 p.m. to 8 a.m. each day.
The detective found Labrie had traveled by bus to Boston a dozen times since October, leaving home as early as 5 a.m. and sometimes returning hours after his nighttime curfew. Prosecutor Catherine J. Ruffle said she had surveillance video, ticket stubs and credit card receipts as evidence. A bus ticket agent even recognized Labrie, who told the employee on at least one occasion that he was headed to Boston to see his girlfriend.
"He lied to the jury,'' Ruffle said. "He lied to your honor and now he's been walking around not only with his chin up but his nose up in the air snubbing your court order.''
Defense attorney Jaye Rancourt admitted to the curfew violations, and gave excuses for them. On several occasions, she said, Labrie was meeting with his attorneys and had thought he had permission to do so.
In other instances, he was meeting with professors and studying for a thesis. She showed the judge text messages between Labrie and his mother, and emails between him and a professor.
Yes, he told Zalkind and the ticket agent that he was going to see his girlfriend at Harvard, but that was because he didn't want them to know where he was studying.
Privacy was also the reason Rancourt didn't file a motion in court asking for a relaxed curfew so Labrie could study. Pointing to the rows of reporters, she said any disclosure of where Labrie was going to school would spark a "media frenzy,'' or even put Labrie in danger.
"Telling the public, telling the media where my client is at all times is not safe for him,'' Rancourt said. "So he chose, wrongly, your honor, admittedly, to fly under the radar and on three occasions go to Boston early in the morning to try to pursue some academic endeavors … He's sorry.''
Before the judge made his decision, Ruffle reminded the court of the underlying crime: the sexual assault of a young girl on a school campus. The same kind of place Labrie was visiting when he broke the terms of his bail.
"The state was not going to put the public in a situation where he'd be on another campus without any supervision,'' she said.
Outside the courthouse, after her client had been driven to jail, Rancourt said she'd never had a defendant have their bail revoked for going to college.
"Not going out at night to the bars drinking, hanging out with bad people,'' she said. "But getting up early in the morning to try to better his life. And now he's in jail and I think that's a shame.''