Local
It was the last ride for late-night MBTA service
The service's last riders generally frowned on its termination.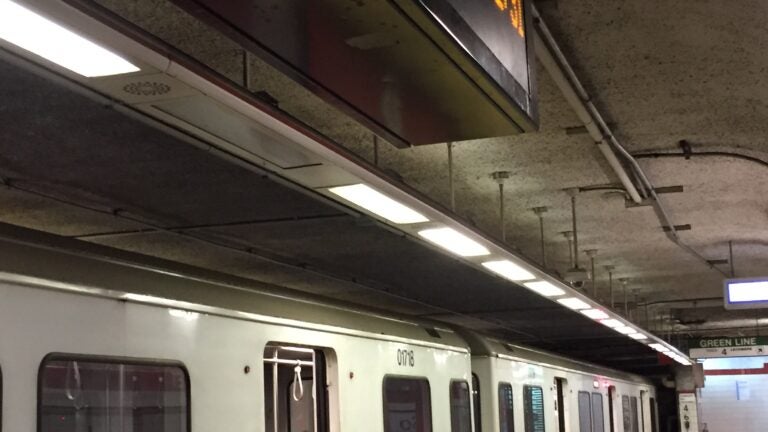 At 2:34 a.m. Saturday, the final Green Line trolleys of the night departed from Park Street. Headed for Lechmere, Boston College, Riverside, and Cleveland Circle, they left after about half an hour on standby, collecting the stragglers who would become the last riders of the Massachusetts Bay Transportation Authority's late-night weekend service. Never again—or, at least, no time soon—will Boston's subway system go to bed so late.
The T started hinting last year that it planned to cancel the service, and the move has carried different meanings in different quarters.
To the T's control board, which voted last month to pull the plug on the two-year-old service, it was a cost-savings measure for an agency more than a year into fiscal crisis mode, the service's 13,000-per-night ridership not justifying its $14 million annual price.
To Bostonians in the service industry working odd hours, it was a blow to their transportation needs—one also felt by some college students and barhoppers looking to stretch their nights beyond the T's usual 12:30 a.m. closing time.
To The New York Times, the decision provided a platform to ponder in a Friday feature why Boston nights hew toward early.
Those who rode during late-night T's final hours, which appeared to be slow and mellow, generally frowned on its termination.
Neil Peterson, who had met with friends near Copley Square before boarding the Green Line home to Brookline, recalled the cancellation of the T's Night Owl bus program in 2005 after four years. Then and now, he said, the end came unceremoniously.
"It was the same thing,'' he said. "It just disappeared.''
Natalie Isbitsky sells concessions at TD Garden, and caught a train after a college hockey doubleheader at the arena. While Celtics and Bruins games usually wrap up around 10 p.m., some Garden events run long—as was the case Friday, she said, after the first game went to triple overtime. Isbitsky said she isn't sure how she'll get home to Quincy after late events in the future. The price of a taxi or Uber ride would likely be prohibitive, she said.
"I'm going to have to sit in North Station and wait for service to start in the morning,'' she said.
Some out-of-towners were surprised to learn they were among the MBTA's final late-night riders. John, Paul, and Toni—a trio of students at the Rochester Institute of Technology visiting Boston for a few days, and who declined to provide their last names—were eager to use public transit, which is limited in Rochester. With plans to stay out late again Saturday, they were dismayed to learn the last trains would leave around 12:30 a.m.
"That's pretty early,'' Toni said.
Andrew Barr, a Bostonian, questioned the timing of the cancellation and said late-night ridership might pick up with the upcoming spring weather. But with the service on the brink of its conclusion, he considered his only option before hopping on the last trolley toward Cleveland Circle.
"We're going to say a little prayer, and hope that it returns,'' he said.
Barr's friend Jason Besch was less optimistic.
"This is it, man,'' he said.