Local
The best, worst jokes of the South Boston St. Patrick's Day Breakfast
Featuring Sen. Elizabeth Warren, Gov. Charlie Baker, and Mayor Marty Walsh.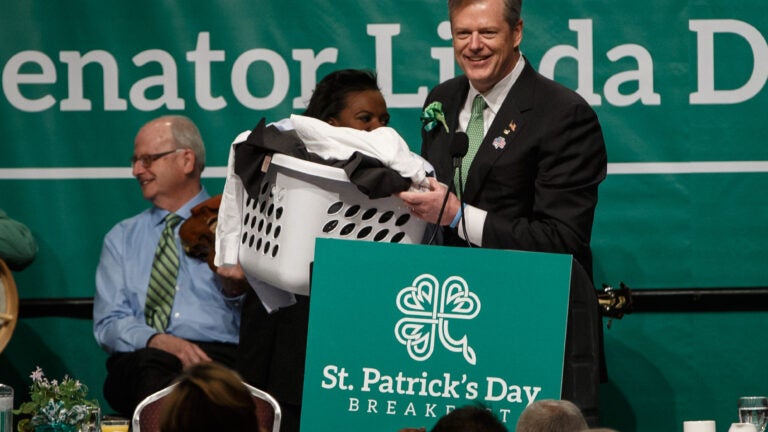 Fortunately, these people have pretty good day jobs.
Massachusetts' top elected officials tried out their best comedy routines Sunday to take digs at rivals (and each other) at the annual South Boston St. Patrick's Day Breakfast.
The event was hosted by state Sen. Linda Dorcena Forry, who started off with a dig at Boston Mayor Marty Walsh over the city's recent attempts to shorten the St. Patrick's Day parade route.
"Mayor Walsh was trying to get the breakfast cut in half too,'' Forry said to laughs from the mid-morning audience of several hundred drink-sipping local movers and shakers.
"Seems like there are more people here then all of the people who voted for Jeb Bush,'' Sen. Elizabeth Warren kicked off her routine.
"You have as many college kids here as a Hillary Clinton rally,'' the Democratic senator said, "as much diversity as a Bernie Sanders rally, and the blood alcohol content of a Donald Trump rally.''
Warren acknowledged her much-sought-after endorsement in the Democratic primary and said she liked both candidates.
"Hillary has always been gracious to me, and on my first day in the senate, Bernie checked me out and said, 'Hey, who's the hot young babe?''' the 66-year-old senator teased her 74-year-old colleague from Vermont.
But most of Warren's monologue focused on the other side of the aisle.
"Donald Trump is floating Scott Brown as a running mate,'' she said. "It would be the perfect reality-show matchup: Celebrity Apprentice and The Biggest Loser.''
Up next was Gov. Charlie Baker, who ran on to the stage holding a hamper of laundry, a less-than-subtle reference to embroiled Democratic state Sen. Brian Joyce.
"I've been waiting for Sen. Joyce,'' Baker said. "I've heard he gets great deals.''
Compared to Warren, Baker's jokes were met with a little less enthusiasm — and more groans — from the mostly Democratic crowd.
"St. Patrick drove the snakes out of Ireland,'' he told the audience, "and you all drove the Olympics out of Boston.''
Baker noted his own high approval ratings, but also his less-than-stellar record when it comes to endorsements.
"I endorsed Scott Brown in 2012 and 2014, and that worked out well,'' Baker said. "I endorsed Richard Tisei in 2012 and 2014, and that worked out well. And last month I endorsed Chris Christie — that worked out really well.''
The governor then tried to turn his endorsement kiss-of-death into some job insurance.
"I'm here to endorse Elizabeth Warren, Maura Healey, and Marty Walsh for governor in 2018,'' he said.
Proceeding Walsh's address, Rep. Stephen Lynch took aim at the mayor for trying to shorten the parade route — with his best Trump impression.
"You ever noticed how small Mayor Walsh's hands are?'' Lynch asked, revealing fake giant hand gloves, to roars of laughs from the audience.
"I'm just saying,'' Lynch said. "Teeny, tiny.''
The representative then promoted his district's South Boston parade in the afternoon.
"We're gonna make Southie great again,'' he said. "We're going to be so tired of winning. … The parade will be so long, you'll be saying enough of the parade.''
Finally, it was Walsh's turn. Looking to rebound from last year's breakfast, Walsh' routine was largely aided by background props.
"People are always asking me what's next,'' Walsh said. "I love being mayor. I'm not thinking about what's next.''
As the mayor spoke, the screen behind him scrolled through photos of him speaking at the White House, at events with Pope Francis and former President Bill Clinton, and even photoshopped him into the Super Bowl halftime show.
Walsh thanked Baker for his recent work passing a bill to address the opioid crisis and recognized the accomplishments their bi-partisan bromance has achieved.
In a full-length parody of Adele's "Hello'' music video, Walsh showed how he and Baker were able to convince GE to move to Boston — featuring the mayor in the singer's infamous fur coat.
[fragment number=0]
Walsh and Baker capped off the parody video with a selfie.