Local
Co-founder of anti-addiction group loses nephew to fentanyl overdose
John Rosenthal joined with the Gloucester police chief last year to form the Police Assisted Addiction and Recovery Initiative. Last month, he lost his own nephew to the disease.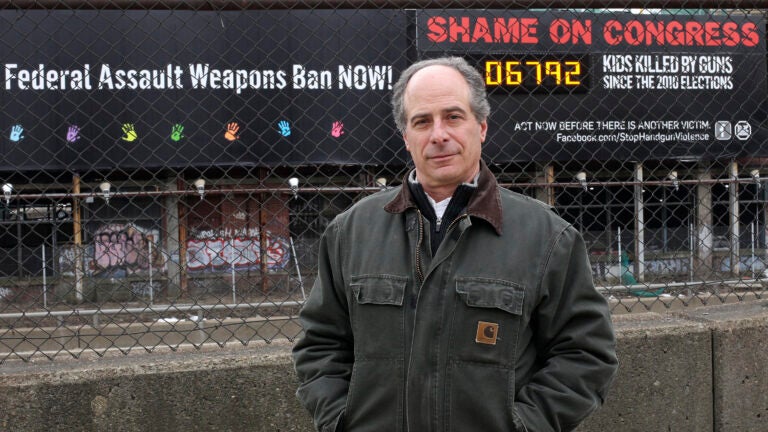 When John Rosenthal reached out to the Gloucester police chief last June, intrigued by the lawman's plan to funnel addicts to treatment instead of jail, he was thinking of all the addicts and families he might be able to help.
He didn't yet know that someone in his own family was struggling with the disease. He didn't know that within a year, he'd lose someone close to him to addiction.
Rosenthal, best known for the giant Stop Handgun Violence billboard that overlooked the Mass. Pike, joined up with Gloucester Police Chief Leonard Campanello last year after the chief announced he would find a treatment bed for any addict who walked into the police department.
Rosenthal and Campanello formed the Police Assisted Addiction and Recovery Initiative, a group that helps departments adopt programs similar to Gloucester's.
Within a month, Rosenthal discovered that his nephew, Nathan Huggins-Rosenthal, was one of those addicts he was trying to help.
Huggins-Rosenthal graduated from Suffolk University with a master's in business administration and moved back to Calgary, Canada, where he worked as a stockbroker, Rosenthal said. After a back injury about five years ago, the younger man developed an addiction to the opiates he was prescribed, and later transitioned to fentanyl, a synthetic opiate that is 50 times more powerful than its cousin, heroin.
Huggins-Rosenthal overdosed on fentanyl on Feb. 17 and died, Rosenthal said. He was 34.
His nephew is a classic example of a disease that knows no boundaries, Rosenthal said.
"Anyone in any socioeconomic strata can is vulnerable, and he fit the model to a T," he said.
And just like many families, there was a sense of shame and stigma, Rosenthal added.
When Rosenthal discovered his nephew's disease, he encouraged him to come to Gloucester and find treatment through the department's program. He didn't.
"Between the stigma and the shame, he didn't want to put it on me," he said. "And didn't want to come to a police station, like historically, many people have felt. We're changing that."
More than 400 addicts like Huggins-Rosenthal have come to Gloucester for treatment. And nearly 90 police departments in 23 states have started similar programs through PAARI.
"Now police departments … are the new entry point into treatment," Rosenthal said. "Which is changing the world of treating people with this chronic disease."
Huggins-Rosenthal eventually did get into treatment closer to home. But it lasted just 60 days, Rosenthal said. It was all he could get, and it wasn't enough.
"It's lifelong treatment," Rosenthal said. "Like cancer, heart disease or diabetes. And no one argues with that. No one stands in the way of providing lifelong treatment for people with chronic diseases."
Four more people will die today in Massachusetts of an overdose, Rosenthal said. Many of them won't get treatment, and if they do, it likely won't be enough.
https://www.facebook.com/GloucesterPoliceDepartment/posts/839887642788433