Local
Revamped and accessible, MBTA's Government Center station reopens after two years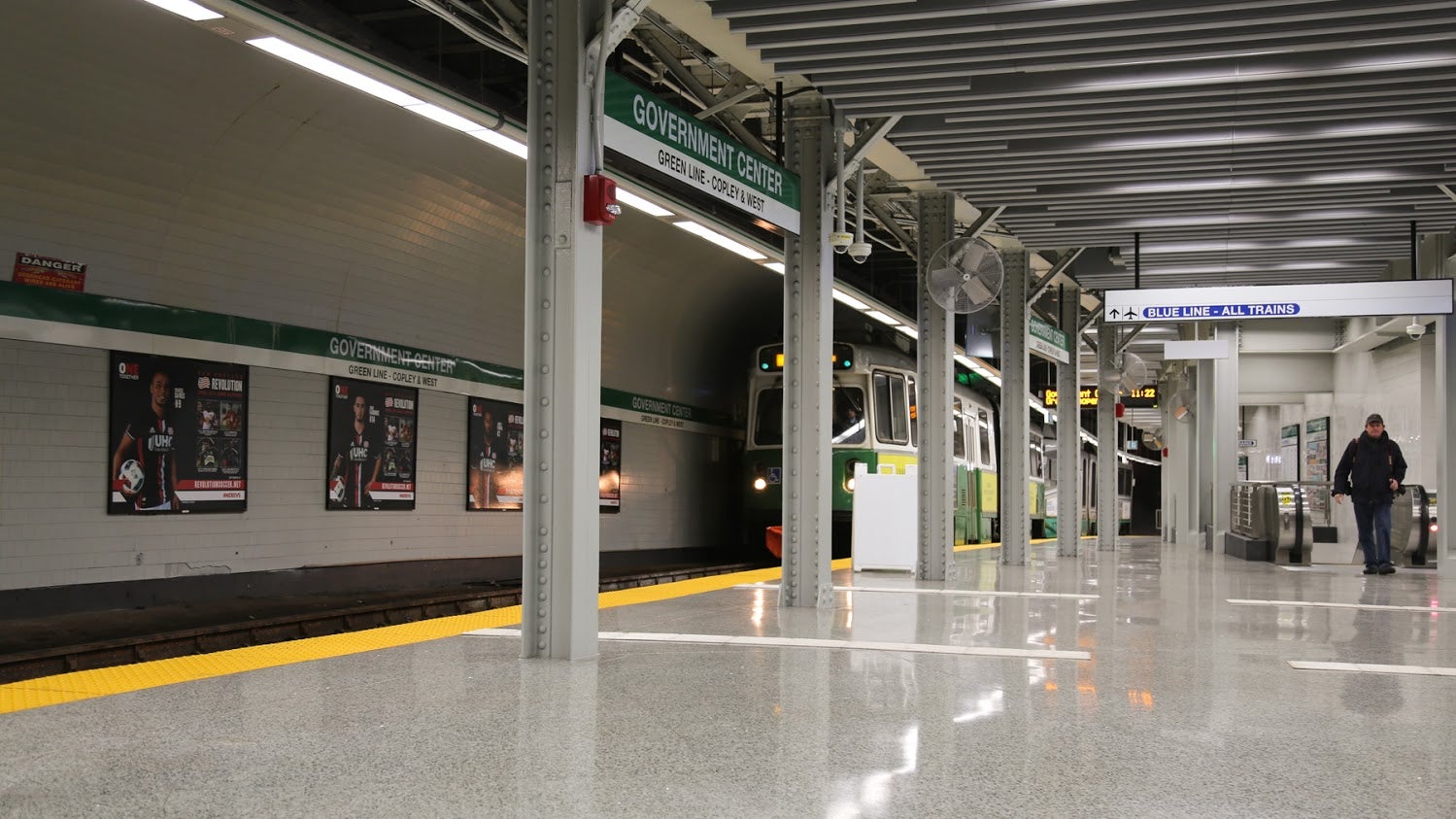 After a grand opening ceremony in the new station's entrance and a tour of the new facilities, Governor Charlie Baker took a radio in hand and gave the command Monday.
"Governor Baker to central control," he said. "Central control, at this time, Government Center station is now reopened," he said.
And with that, Baker—along with Lt. Governor Karyn Polito, Transportation Secretary Stephanie Pollack, and Boston Mayor Marty Walsh—hopped aboard the first Green Line trolley to take passengers from the station in two years.
Having spent more than a year in crisis mode—stemming from last winter's Snowpocalypse, negative fiscal news and doubt over whether the Green Line extension will ever be completed—the Massachusetts Bay Transportation Authority seemed eager to embrace some good news with the reopening.
The refurbishment of T's 17th busiest station, and the only one to link the Green and Blue Lines, was an anomaly in the world of transit projects: it was completed on-time and near-budget. The event was heralded with a festive celebration and significant fanfare, complete with about 30 minutes of remarks from public officials, an electric violin performance, a plaque unveiling and a ribbon cutting ceremony.
The renovation chiefly served to make the 118-year-old Government Center station accessible to people with disabilities for the first time, adding four new elevators—two each for the Green and Blue lines. The station's platforms have also been adjusted to allow for access.
It also replaced the station's former brick bunker of an entrance with a 12,800-square-foot glass structure, which ushers natural light down toward the Green Line platform. New flooring and finishes are also among the biggest changes since the station was shuttered and demolished in 2014.
Government Center was the last of what the T determined years ago to be 80 "key" rapid transit stations targeted for accessibility measures. (More than 30 stations remain inaccessible, and the T is in the process of prioritizing future accessibility work.)
"Not having this station be usable by anyone who wants or needs to use it was a huge omission in our investment plans," Pollack said. "It's delightful to be here today and to say that we have finally rectified that decades-old omission."
Michael Muehe, a disability rights advocate and executive director of the Commission for Persons with Disabilities in Cambridge, celebrated the opening as a milestone "both practical and symbolic."
"Government Center accessibility now means better access to the many elected and appointed officials creating disability policy. It means greater access to federal, state, and local government services overall," Muehe said.
Speaking with reporters after the event, Pollack said Government Center is a model for other station renovations. The project broke ground under former Governor Deval Patrick, and the T has generally been pinching pennies since Baker's inauguration coincided with last winter's transit crisis. T leaders have said future capital spending should largely go toward a $7.3 billion backlog to bring the system to a state of good repair, but Pollack said modernization is also important.
"There are places in the system where it doesn't make sense just to rebuild it to a state of good repair—where you really want to modernize it," she said. "It's a great example of modernization. If you're going to bother to touch an asset that's as complicated as Government Center is, you might as well get all the work done at once. It's actually more cost-effective in the long run."
Shortly after the ceremony ended and the station had counted its first riders, it was business as usual. The new Government Center even got to count its first blooper when a fire alarm mistakenly went off.
Day 1 at Govt Center and the fire alarms are going off. Dust in a utility closet set it off, I'm told. #MBTA pic.twitter.com/WPTaW8QYxU

— Spencer Buell (@MetroSpencer) March 21, 2016
Photos: Government Center T station opening
[bdc-gallery id="527617″]