Local News
In exchange for approving pot dispensary applications, cities demand lucrative cash perks
Host agreements signed between cities and marijuana dispensaries are supposed to smooth out any issues with the new business opening. But more towns are asking for cash up front and a sales cut in exchange for an essential part of the license application.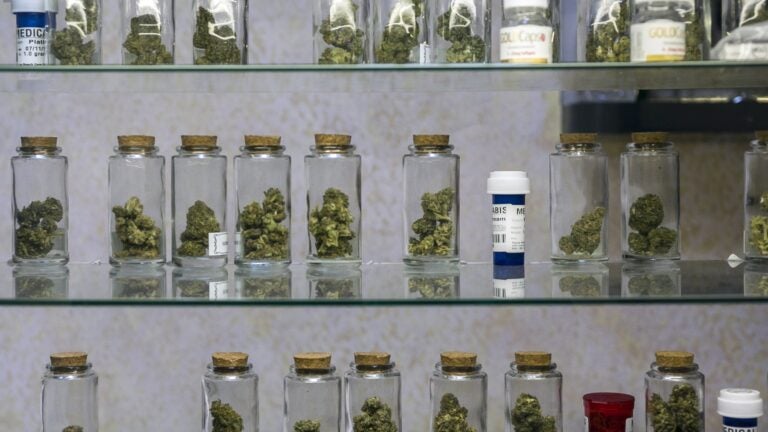 Before Worcester's first medical marijuana dispensary sells one gram, city coffers will be on their way to seeing a lot more green.
That's thanks to a mostly unintended consequence of one piece of Massachusetts' dispensary application: a letter of non-opposition. In the letter, dispensary operators must show that the city where they want to open doesn't oppose their existence. And some cities have been using that requirement as leverage to extract perks in the form of cash, donations and other support.
The head of the group that organized the successful 2012 vote to legalize medical marijuana in the state says the agreements are a form of extortion.
"Now all of the dispensaries are wondering if they'll be held to the same standard," said Nichole Snow, executive director of the Massachusetts Patient Advocacy Alliance. "This predatory behavior on patients is unacceptable. The Host Agreements should be more focused on community reinvestment. Not trying to make a buck off the backs of the sick and vulnerable."
But others say it's just a cost of doing business. The operators of the medical marijuana dispensary that signed the deal with Worcester aren't worried about setting a new, higher bar for access to the medical marijuana industry in Massachusetts. 
"That's not our concern," said Karen Schwartzman, spokesperson for dispensary Good Chemistry. "Our concern is meeting the needs of patients who, for too long, have waited for access to medical marijuana."
"This predatory behavior on patients is unacceptable."
Worcester's deal — which still needs to be approved by the city council — is the most lucrative for a host city so far. Over the next three years, the city gets upfront payments of $450,000, plus a percentage of gross sales (1.5 percent, 2 percent and 2.5 percent in each of the next three years). In the fourth year, and each year thereafter, the Good Chemistry will pay $200,000, plus 2.5 percent of gross sales.
Worcester intends to put the money toward youth recreation and after school programs. The city is still in talks with other dispensaries and could host as many as four.
Because Worcester is the second largest city in New England, it's "appropriate" that the deal's scale would be larger than others in Massachusetts, said city spokesman John Hill.
"The kind of guiding principal was to do what was best for the city at large and we feel like this deal does that," Hill said.
Worcester was a "very sought-after jurisdiction," said Valerio Romano, a lawyer who represents marijuana dispensary owners during the application process.
"It's sort of understandable that one of the nonprofits would choose to enter into a pretty rich host agreement," he said.
Other cities have negotiated similar deals, though not at the same levels as Worcester. Brockton signed an agreement with dispensary In Good Health last year that provided the city at least $100,000 per year. The state's first open dispensary, Alternative Therapies Group in Salem, agreed to pay the city of Amesbury at least $50,000 per year.
"In order for patients to have access, you need to have dispensaries be open," Romano said. "In order to have dispensaries open, you need to make the town happy."
The Department of Public Health, which oversees the dispensary application process, doesn't have anything to do with the host agreements. Those are negotiated between the town and the dispensary.
"Our concern is making sure there is safe patient access around the state and our goal is to have a program that is well-regulated and well-run," said DPH spokesperson Scott Zoback.
These agreements are uncharted territory for a state that saw its first dispensary open less than a year ago.
"In order for patients to have access, you need to have dispensaries be open. In order to have dispensaries open, you need to make the town happy."
Some legal experts and marijuana advocates compared them to payments-in-lieu-of-taxes, which are agreements signed by colleges or other non-profits where the organization agrees to pay taxes to the city they're in, even though they aren't required to. Others noted the host agreements signed between casinos and cities.
Few other states with medical marijuana laws require a non-opposition letter, said Kris Krane, president of 4Front Ventures, a group that advises dispensaries across the country.
The communities "are incentivized to issue the letter to who will pay the most, rather than the one that fits best in the town," Krane said.
While Snow and her patient advocacy peers want to see the non-opposition letter removed from the application process altogether, Krane said there has to be a middle ground where applicants can demonstrate the support from the community without these "pay to play" type of demands from the towns.
Otherwise, some of these dispensaries might not be able to meet the growing demand from the communities, Krane said.
"It's gotten to a point where this regulation may sort of end up crippling these businesses," he said.
Read the agreement between Good Chemistry and Worcester:
https://www.scribd.com/doc/305495065/Host-agreement-between-Good-Chemistry-and-Worcester