Local
State Police Trooper Thomas Clardy remembered 'in full bloom' at funeral
Fellow officers remembered Clardy at his funeral on Tuesday.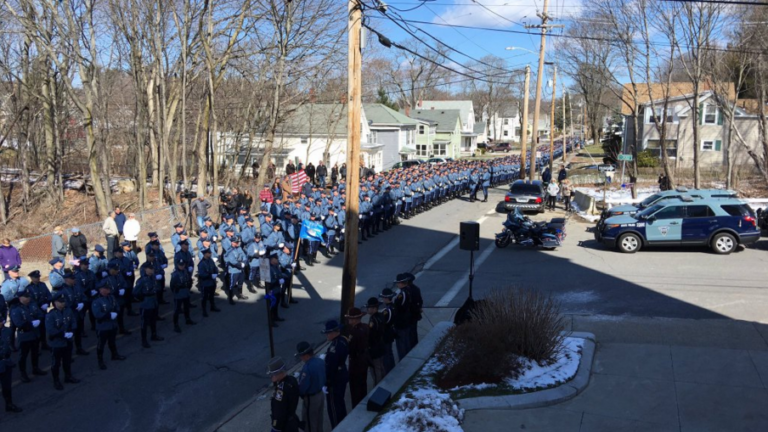 Friends, family, and coworkers of State Police Trooper Thomas Clardy remembered the fallen officer as a committed husband and father of six, a master writer of arrest reports, and a fan of hijinks.
Before an audience of state police and elected officials from around the state, retired State Police Sergeant Albert Toney said Clardy and his office jokes were the "glue" that brought the team together.
As an example, he brought out a pair of oversized, green Hulk gloves and laid them on the lectern. They were originally Clardy's, Toney said. The trooper would put them on and jokingly start flexing and grunting in the Sturbridge barracks where the two worked.
"He'd have these on and punch me in the shoulder," Toney said. "[Saying,] 'Hulk kick Sgt. Toney's ass!' 'Hulk kick Sgt. Toney's ass!'"
Clardy eventually gave them to Toney when the sergeant retired from the police force, hoping they would help Toney remember him fondly.
"His life was cut short, but at the time of his passing, he was in full bloom," Toney said.
Sgt. Albert Toney just took out the Hulk hands before beginning his eulogy. "I'll explain these later." #wbz pic.twitter.com/5tXuzEhsWq

— Christina Hager (@HagerWBZ) March 22, 2016
Clardy, 44, made a traffic stop on the Mass. Pike in Charlton last Wednesday when a speeding vehicle crossed three travel lanes and struck the back of his cruiser. The crash sent the cruiser into another parked SUV and then off the side of the highway, officials said.
Clardy was found with traumatic injuries and taken to a nearby hospital, where he was pronounced dead. He leaves behind his wife and six children, who range in age from four to 17.
The driver of the vehicle, David Njuguna, 30, of Webster, was seriously injured in the crash. He was charged with negligent operation of a motor vehicle and failure to stay within marked lines, officials said.
Trooper Jamie Magerian, a close friend, said in his eulogy on Tuesday that Clardy was an "exceptional individual." In particular, he noted Clardy's talent for writing colorful, sarcastic, and informative arrest reports that vividly brought the reader into the situation.
Magerian said his writing abilities were "nothing short of miraculous," and likened his vocabulary to that of a Jeopardy contestant. Sgt. Toney, too, admired his way with words.
"He was an absolute wizard when it came to report writing," Toney said.
Magerian also said he admired Clardy's pleasant, respectful tone when dealing with panicked callers to the police barracks.
"He consoled people he didn't know, and he did it all with a smile," Magerian said. "Tom would hang up, turn, acknowledge my admiration and presence, and say, 'Does Jamie need a hug, too?'"
Toney shared several loving notes from each of Clardy's six children.
"My favorite thing with my dad was snuggling with him, hugs and kisses," Clardy's son Noah wrote, Toney said.
Current and former state police officials, Gov. Charlie Baker, and Boston Police Commissioner William Evans were among the community leaders who came to St. Michael Parish to honor Clardy.
The funeral comes a day after more than 1,000 law enforcement officials paid their respects to Clardy in Hudson.
"They have lost a father, a friend, a loving husband, but have gained 1,000 hands," Magerian said.