Local
Worker dead after large ammonia leak in seafood warehouse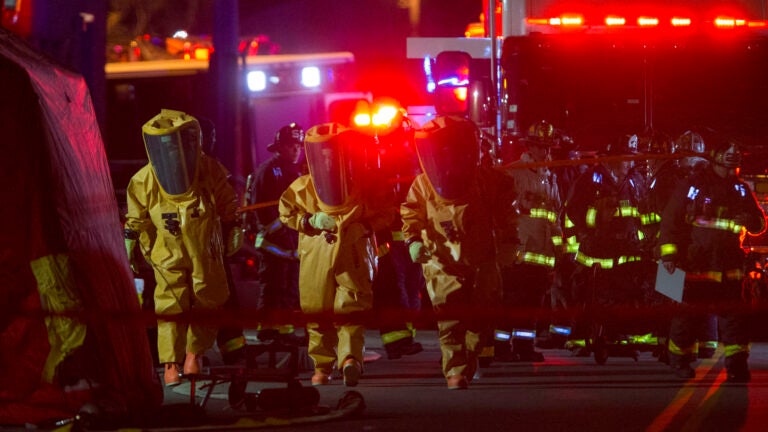 A man died Wednesday night after a large ammonia leak in a seafood warehouse in Boston's Seaport District, according to the Boston Fire Department.
Firefighters responded to a call about a possible ammonia leak at the Stavis Seafoods Warehouse Wednesday evening, the fire department's chief operations officer, John Walsh, said during a press conference. Five to six workers were in the building at the time of the leak, and one of them died from the fumes, Walsh said.
Firefighters tried to rescue the worker from a second floor stairwell in the building but were pushed back by the product during their initial attempt. According to Walsh, the department then declared the leak a level 3 hazmat situation, requiring firefighters to enter the building in "fully encapsulated suits on air."
The body was then removed from the building, and the city's homicide unit, as well as the Occupational Safety and Health Administration (OSHA), is investigating the cause of the leak, Police Commissioner William Evans said. Foul play is not suspected. The victim's identity was not released Wednesday night.
Firefighters were unable to enter the area where the ammonia shut off is until 9:20 p.m.
Evans said the city had issued street closures in the Summer Street area due to a strong wind carrying some of the fumes.
Ammonia is used at the facility for the transportation of fish, according to Walsh. He said there was about 5,400 pounds of ammonia in the tank that connects to the building's pipeline.
The fire department tweeted about the incident.
Response 5:55pm to the Stavis Seafoods Warehouse at 7 Channel St in the Seaport District of South Boston for ammonia leak

— Boston Fire Dept. (@BostonFire) March 23, 2016
Firefighters unable to make entry to the area where the ammonia shutoff is. This is a very large cold storage facility.

— Boston Fire Dept. (@BostonFire) March 23, 2016
Level 3 Haz Mat which means all FF's making entry in fully encapsulated suits on air.

— Boston Fire Dept. (@BostonFire) March 23, 2016
Also means if two firefighters go inside, an equal number must be outside ready to go in at once. Strict protocols for entry

— Boston Fire Dept. (@BostonFire) March 23, 2016
BFD Haz Mat Entry Team pic.twitter.com/bDiQEot7YN

— Boston Fire Dept. (@BostonFire) March 23, 2016
Stavis Seafood 7 Channel St pic.twitter.com/EJ6NKUBaRw

— Boston Fire Dept. (@BostonFire) March 23, 2016
This was the end of shift for the workers at this facility. Ongoing.

— Boston Fire Dept. (@BostonFire) March 23, 2016
Confirming there was one fatality at this haz mat incident. One adult male.

— Boston Fire Dept. (@BostonFire) March 24, 2016
This will be a joint investigation by fire investigators, @bostonpolice and Suffolk DA's office.

— Boston Fire Dept. (@BostonFire) March 24, 2016
Office of Chief Medical Examiner will determine cause of death.

— Boston Fire Dept. (@BostonFire) March 24, 2016
Haz Mat crews working to shut off main valve for the leaking ammonia. About 5,300 pounds inside the building

— Boston Fire Dept. (@BostonFire) March 24, 2016
The ammonia leak has been stopped with the main valve shut down. Fire crews starting to pick up gear to return to quarters

— Boston Fire Dept. (@BostonFire) March 24, 2016
https://twitter.com/BostonFire/status/712812767648940032