Local
T to suspend fare payment announcement amid rider irritation
'Pay your fare, it's only fair.'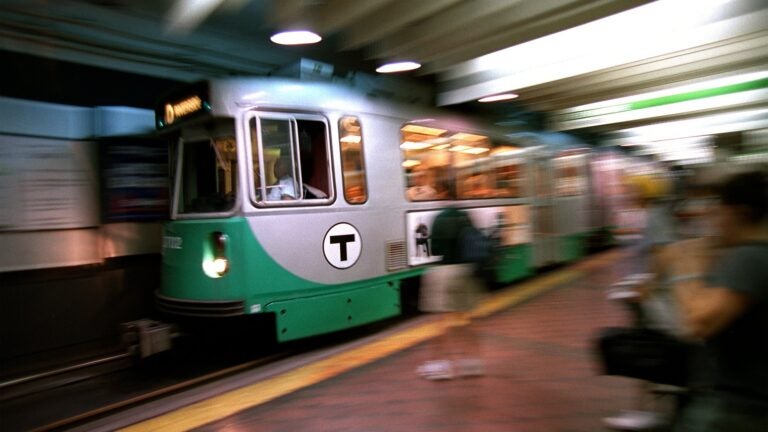 The Massachusetts Bay Transportation Authority said Wednesday it would stop playing a public address message calling on riders to pay their fares on parts of the Green Line, after riders complained about the frequency and the volume of the address on social media.
"Pay your fare, it's only fair," the pre-recorded address, which debuted late last week, said.
The announcement played at the above-ground stops on the western branches of the Green Line.
On social media, riders roundly complained about the message. In general, they didn't criticize its content. Instead, they took issue with the frequency of the message—which played stop after stop—and its volume, which was much louder than other messages that played on the trolleys.
Me: *cowering, weeping, begging for a reprieve*

Uncaring T: PAY YOUR FARE IT'S ONLY FAIR

— Conner Reed (@reed_conner) March 23, 2016
Every time a train stops in front of my place I have to hear "pay your fare, it's only fair!" Make it stop! @MBTA ?

— C. Ash (@heavensss) March 21, 2016
The stops the message played at are considered prime territory for fare evasion, as trolleys open their middle and rear doors at them.
T officials have said in recent months that they hope to crack down on the practice, and the announcement was one step toward doing so. But after it elicited several complaints, MBTA spokesman Joe Pesaturo said the agency would drop it, at least temporarily.
"It will take a few days to reprogram each trolley's on-board system, but the announcement—as currently heard inside the cars—will be suspended while the T develops an alternative," Pesaturo said, after fielding questions about riders' complaints from Boston.com.
Prior to announcing the suspension, Pesaturo said the volume of the announcements would be adjusted. But he said doing so would take time, because trolleys communications systems need to be adjusted individually.
Pesaturo said the T also received complaints from people who lived near above-ground stops who objected to the volume.
Jordan Meehan, a Suffolk University law student who commutes from near the end of the C branch, was among those who complained online about the announcement.
"I just have a sinking feeling that one day that announcement is going to malfunction and it's just going to repeat over and over and over again the whole ride," he said in an interview. "It's the Green Line, and these things happen."
Some riders who complained acknowledged that fare evasion is an issue on the Green Line, but say they doubt the message will have an effect.
"I'm sure there will be some sort of statistical analysis done at some point, but I can't personally conceive that hearing a loud, automated voice could guilt someone into changing their behavior," said Conner Reed, a sophomore journalism student at Boston University.
Emma McAfee-Hahn, a 24-year-old preschool teacher from Brighton, said she took issue with both the frequency and volume of the message. But she also said it was "condescending." And she said it's not always feasible to pay a fare, because drivers sometimes wave riders on-board.
"Yes, everyone should be paying their fare," she said in a direct message on Twitter, "but I would say probably 40% of the time I use the MBTA the fare box on the bus/T is out of order."
While irritation was the overwhelming tone of the reaction to the message on Twitter, Joe Medoff, a senior at Emerson College who lives along the E branch, said he was surprised by riders' disapproval of the message.
Seriously? I know people who are against the new "pay your fare! it's only fair." announcement on the T now?

— get a load of me! (@JoeMedoff) March 23, 2016
"It's just a little announcement. … It's reinforcing something we all should be doing anyway," he said in an interview.
Since Gov. Charlie Baker appointed a new governing board to the T last summer, the agency's leaders have spoken often about shoring up fare collection. Last year, Keolis, the private company contracted to run the commuter rail by the T, dispatched "mystery shoppers" to make sure conductors were collecting fares. And many public comments during the heated fare hike debate earlier this year suggested the T should address collection deficiencies before raising fares.
"During the recent public comment period on the fare structure, the MBTA heard repeatedly that there has to be a more intense focus on fare collection," Pesaturo said.
Transit officials have previously said, however, that they have no great way to measure how much money is lost on skipped fares, because some of the people boarding without paying may have prepaid monthly passes.
Boston Mayor Marty Walsh jokingly took up the issue earlier this week during a ceremonial, one-stop ride after the opening of the new Government Center station. Yelling out to government officials and reporters who followed him aboard the first trolley to leave after the station's reopening ceremony, Walsh threatened to dispatch anybody who did not have a CharlieCard.
https://twitter.com/gintautasd/status/711958121455992836