Local
Inspectors previously found serious safety violations at seafood company where worker died in ammonia leak
Stavis Seafoods received 15 'serious' violations in 2009 for how they handled and assessed ammonia hazards at their building.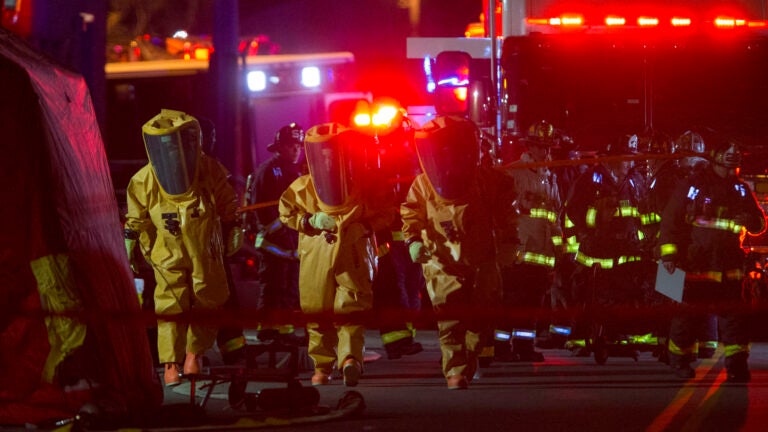 The South Boston seafood company where a worker died Wednesday night was issued thousands of dollars in fines by the Occupational Health and Safety Administration for serious violations related to how it dealt with ammonia in the facility's refrigeration system.
The worker killed at Stavis Seafoods Thursday died from ammonia poisoning, according to investigators.
In August 2009, the company was issued $47,250 in fines for 15 separate serious violations, chiefly in its process safety management program. According to OSHA's records, the 15 violations were reduced to 6, and the penalty was dropped to $15,750. The case was closed in November 2009.
Serious citations mean that death or serious physical harm is likely to result from hazards the employer knew about or should have known about, according to OSHA.
"The requirements of OSHA's PSM standard are stringent and comprehensive because a leak could have a severe or catastrophic effect on employees," OSHA's area director said at the time.
Stavis CEO Richard Stavis released a statement Thursday, but didn't address the 2009 violations.
"Our concern today is with the tragic death of our employee, his family and finding out exactly what happened," Stavis said in the statement. "The safety of our employees and our workplace is always our greatest priority. To that end we will do everything we can to assist with the investigation."
The 2009 inspection covered a number of violations:
OSHA's inspection found the initial evaluation of hazards associated with the refrigeration system had not been conducted; standard operating procedures had not been developed for all system activities or were incomplete; the system's computer control procedures had not been annually certified as current and accurate; there were no written procedures covering process changes or to maintain the ongoing mechanical integrity of its equipment; process safety information had not been updated to reflect changes; and the PSM program was not audited every three years.

In addition, the employee maintaining the refrigeration system had not received annual emergency response training and respirator fit testing; the facility lacked a written respiratory protection program and complete hazardous energy control procedures for all machines; and the maintenance shop lacked an adequate emergency eye wash.
The leak at the cold-storage warehouse Wednesday night was reported just before 6 p.m. Firefighters responded to the building at 7 Channel St., but were pushed back by the fumes. The Boston Fire Department declared the situation a level 3 hazmat situation, requiring firefighters entering the building to wear "fully encapsulated suits on air."
OSHA is investigating the worker's death.