Local News
Bye-bye bottle bill? Proposal seeks end to 5-cent deposits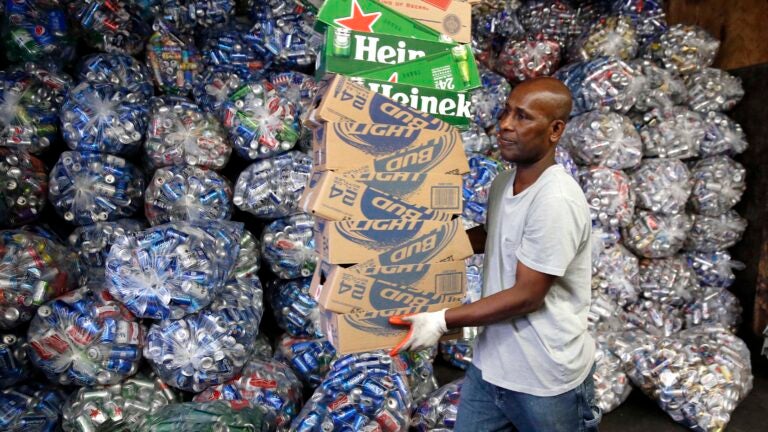 BOSTON (AP) — The state's 33-year-old beverage deposit law could face a new challenge from a proposal that seeks to boost municipal recycling programs while ending the practice of consumers toting their empty bottles and cans back to stores or redemption centers to get their nickel deposits returned.
The legislation is strongly opposed by environmentalists. But it is supported by beverage and food industry groups emboldened by the decisive defeat in 2014 of a ballot question that would have broadly expanded the current law, better known to Massachusetts residents as the bottle bill.
The plan, recently advanced by the Legislature's Telecommunications, Utilities and Energy Committee, calls for eliminating 5-cent deposits on soda and beer containers and substituting a three-year, 1-cent per container fee paid by beverage distributors and wholesalers. The fee would go toward a fund to help cities and towns develop modern waste reduction programs such as single-stream recycling, which allows people to put all their recyclables, bottles and cans included, into a single container without sorting.
"People like recycling at home. They like having that convenience," said Nicole Giambusso, a spokeswoman for the Massachusetts Beverage Association. "There is a clear preference away from the deposit system."
The bottle bill has long been a nemesis for the industry and for retailers who must process empty returns and file monthly paperwork with the state. But champions of the 1983 law, including groups like the Sierra Club and the Massachusetts Audubon Society, say it's more than achieved its goal of reducing the volume of discarded bottles and cans that litter parks, beaches and roadways. They call the pending legislation a "thinly veiled attempt" to let businesses off the hook at the expense of the environment.
There are signs of possible bottle bill fatigue.
The statewide redemption rate for containers with deposits was 59 percent in 2015, down from nearly 68 percent in 2011, according to state figures. The willingness of more consumers to forego deposits in favor of home recycling could well be playing a role in the drop.
Unclaimed deposits go into the state treasury and are estimated at $39.5 million in the fiscal year ending July 1.
In 2014, environmental groups sponsored a ballot initiative to expand the law by placing deposits on a variety of drinks — from bottled water to flavored iced tea — that were virtually unheard of on store shelves in 1983.
Early polling pointed to voter support for the idea, but that quickly evaporated under a barrage of advertising by opponents, including the soft drink industry and supermarket chains that spent $9.2 million, compared to $1.5 million spent by sponsors. Voters rejected the question by a 73-27 percent margin.
Despite the setback, bottle bill proponents argue there is no reason to repeal the law altogether.
"What we have now is half a loaf and it's absolutely better than none," said Janet Domenitz, executive director of the Massachusetts Public Interest Research Group. "Anyone trying to take away half a loaf does not have the public interest in mind or the environment in mind."
Domenitz hopes lawmakers will consider an alternative approach, one that could end refundable deposits in six years if there's definitive proof by that time that new recycling methods are equally effective as the bottle bill.
Massachusetts is one of 10 states with some type of beverage deposit law.
Backers of the pending legislation point to Delaware, which in 2010 scrapped its refundable nickel deposit system and replaced it with a temporary 4-cent tax on beverage containers that was used to fund enhanced recycling. The tax expired in 2014 after state officials declared the new system a success.
The proposed 1-cent fee on distributors in Massachusetts would expire after three years after raising an estimated $114 million for recycling programs, according to Giambusso. Critics contend that would be nowhere near enough to fund the massive recycling initiatives envisioned by supporters of the measure.