Local
The way you pay to ride the MBTA could change pretty quickly
Cell phones and credit cards may be the new CharlieCard. And on-board cash payments could be on the way out.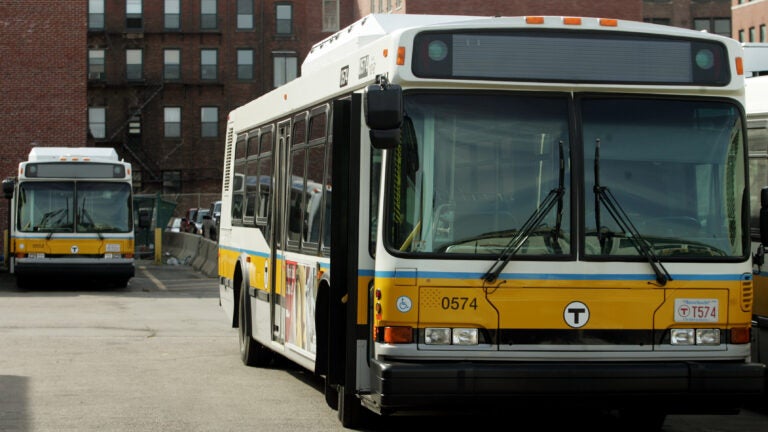 The T wants to change the way passengers pay for their rides, and is eyeing an aggressive timeline — by MBTA standards, anyway — for doing so. Within a few years, customers could soon be tapping cell phones or credit cards to access the transit system, officials said at a Monday meeting.
David Block-Schachter, the T's chief technology officer, told the agency's governing board that such a system could be in place within 24 months of awarding a contract to a company to implement the new service. A request for proposals will likely go out this spring, and MBTA board member Monica Tibbits-Nutt put a timeline at as low as 30 months.
Block-Schachter rattled off potential benefits of the switch to both riders and the T during Monday's meeting. They included quicker lines while boarding, the option to pay at any door on buses or trolleys, cheaper hardware and maintenance costs compared to the T's existing fare readers, personalized online user accounts for riders so that they do not need to rely exclusively on their CharlieCards to store fare value, and the opportunity to explore alternative fare policies like adjusting trip costs based on distance traveled or the time of day.
But the transition would also spell the end of cash payments while boarding buses and trolleys — a positive for bus riders delayed by other passengers digging for quarters to pay their fares, but a potential problem for those who rely on cash.
To accommodate those riders, Block-Schachter said the T would need to work with convenience stores and other retailers to sell a new "2.0" version of the stored-value CharlieCard under the new system. The T might also install machines where riders can reload those cards prior to boarding at some bus stops, which would still take cash.
"We have to be able to make sure that people are going to be able to fill [cards] with cash, we just don't want them to do it on the bus," Tibbits-Nutt said while speaking with reporters after the meeting.
T officials cited Chicago and London as examples of transit systems that allow for credit card and phone payments. While Chicago still allows cash payment on buses, London does not. According to London's transit system's website, bus riders who do not have enough money on their stored-value cards are allowed to board, but must make up the negative balance before they can use their cards again.
Tibbits-Nutt said it's too soon to determine the potential cost of installing the new payment system. But she said the sooner it happens the better, because it is expensive to maintain the T's existing fare collection equipment. Block-Schachter said the fare collection equipment on MBTA vehicles costs "more than most cars."
Tibbits-Nutt acknowledged the 30-month timeline was "incredibly fast-track for the MBTA." The board asked Block-Schachter to prepare more information in the next three weeks. Joseph Aiello, the chairman of the board, said transitioning to such a system should be considered a top priority.
Fare collection was not the only tech-tilting consideration the board heard about Monday. The T is also claiming progress as it seeks to work with transportation companies to offer on-demand paratransit services.
The T in recent month launched a pilot program with taxi companies as part of its door-to-door service for disabled riders, the Ride. The program sees the T pay $13 per ride, and riders pay $2. If the ride costs more than $15, riders pick up the balance, so rides are generally kept to a small geographic area.
The program is cheaper both for riders — for whom a paratransit ride usually costs $3 and must be booked in advance — and the T — which subsidizes the usual service at a per-trip rate of more than $45. The pilot system is voluntary, so riders can still take the traditional Ride service if they prefer.
Since last fall, the T has said it wants to expand the program to include smartphone-enabled, ride-for-hire services like Uber, which was one of five companies to attend an informational meeting with the T last week to learn more.
MBTA Chief Administrator Brian Shortsleeve said other companies in attendance included services that own accessible vehicles and are interested in "pivoting" to offer those vehicles on-demand. He said that multiple companies could ultimately participate in the program.
Michael Lambert, a deputy administrator for the T and the state's Department of Transportation, said several groups representing disabled riders have been enthusiastic about the program. It could be up and running by the summer, he said.