Local
Over $60K raised for Natick woman whose husband suddenly died day before she gave birth to twins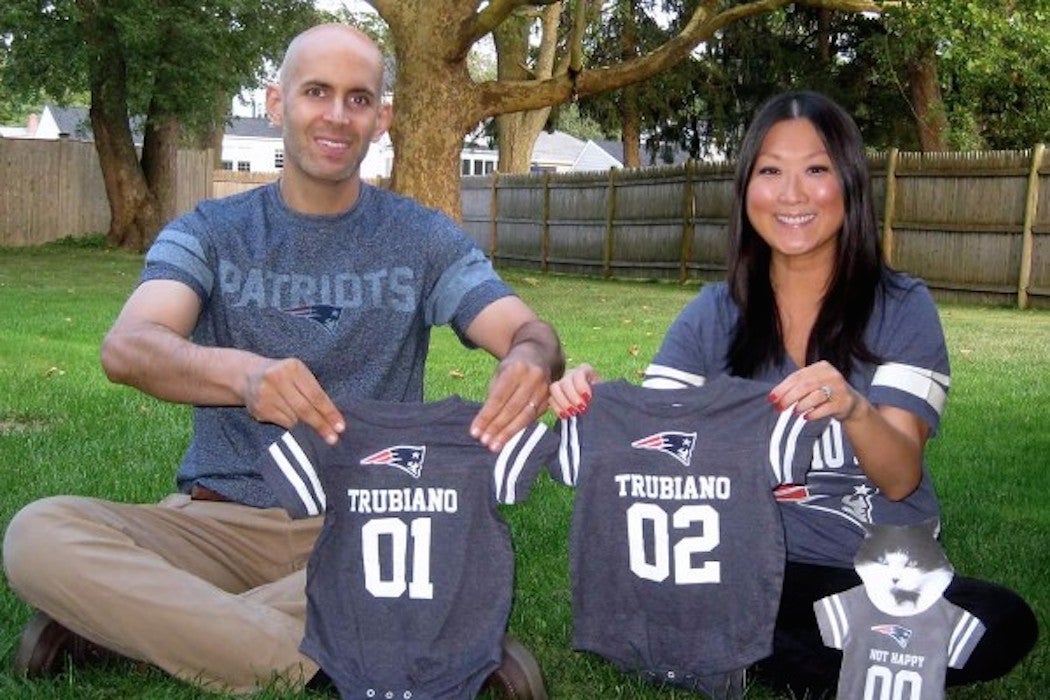 Family, friends, and even strangers have raised over $60,000  for a Natick woman after her husband died unexpectedly in his sleep one day before she gave birth to twin boys.
Dino Trubiano, 39, died in his home Friday morning, a day before his wife of 10 years, Sue Heslin Trubiano, was scheduled to have a cesarean section.
A friend of Sue's from high school, Karen DeVincent, set up a GoFundMe page to raise money for the new mother and to help with funeral expenses. The page raised over $50,000 in just days.
"When I heard what happened, I set up the page just hoping it would help," DeVincent told Boston.com. "I never imagined it would do so well or touch so many people."
Sue welcomed her twin boys, Caleb Peter and Jacob Dino, into the world on March 26, and all three are "healthy and doing well," according to an update within the fundraising page. 
Dino, a life long Natick resident and one of three siblings, was an attorney and supervisor for the U.S. Social Security Administration in Boston. He was "an avid runner, Patriots fan, enjoyed music and cherished the time spent with his family," according to his obituary.
A joint statement from both the Trubiano and Heslin families expressed "shock and sadness" after the sudden loss of Dino.
On behalf of our families, we are shocked and saddened by the sudden loss of Dino, our husband, son, brother, and friend. Amidst the tragic event of Dino's passing, and the joyful arrival his twin sons, Caleb Peter and Jacob Dino, we are overwhelmed and humbled by the amount of support received. It is a true testament of not only the life Dino led, but also the community to which he belonged.

Dino will forever be the loving, loyal, determined, selfless, and compassionate man who waited in eager anticipation for the arrival of his sons. He was thrilled to assume his role as father and all that it would encompass, from changing diapers to raising the next generation of Patriots fans. Dino and Sue, with their love growing daily over nearly 10 years of marriage, cherished each moment of pregnancy. Dino would often say it was the best time of his life. While his sons will never meet him, it is certain that Sue, along with Dino's family and friends, will never let them forget him.

We are in grateful awe at the kindness, love and support that has radiated upon our family. Thank you for the prayers and thoughts and for respecting the family's privacy during this time.