Local
A red carpet for Amazon in Fall River and hopes for more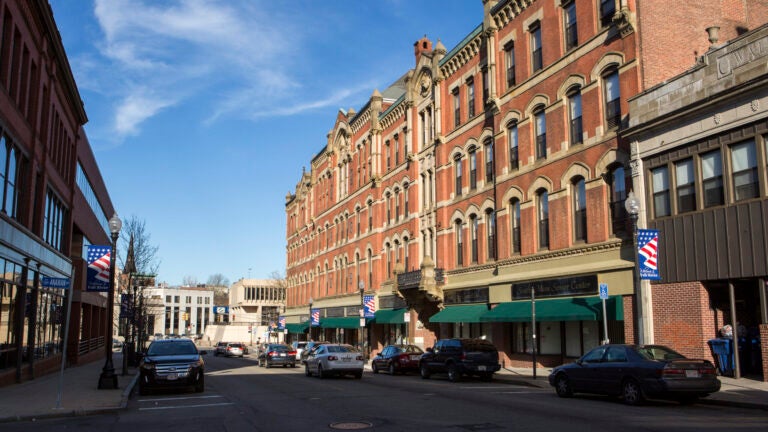 FALL RIVER, Mass. — For this former mill town, the deal to secure a large Amazon distribution center means much more than the $3.78 million coming from the land sale and the successful culmination of three years' worth of negotiations.
"Any time you have a corporate giant making a commitment to a city, that speaks volumes," said Kenneth Fiola Jr., executive vice president of the Fall River Office of Economic Development, which worked closely with state officials and the broker NAI Hunneman to bring in the online retailer. "It gave us enhanced credibility."
Credibility to attract other large companies, for one thing. And the deal for a distribution center of more than 1 million square feet also gives Fall River, a southeastern Massachusetts city of about 89,000 people, cash to tackle a long list of improvements planned for its downtown business district. It is the latest step in a strategy that Fiola and other civic leaders are pursuing to encourage urban investment and redevelopment.
Like other former mill towns throughout the Northeast, Fall River necessarily refocused its economic base after the textile industry began departing in the 1990s. The city negotiated with the state and federal government for tax incentives to lure biomedical manufacturers and others into the area.
"You're seeing a city reinvent itself," said Robert A. Mellion, president and chief executive of the Fall River Area Chamber of Commerce. "It didn't happen by accident. It's an effort to design and implement an economy that's sustainable for the long haul."
Local businesses, many in the health care sector, have also been growing, which is good news for James J. Karam, president and chief executive of the property firm First Bristol, which owns three buildings downtown.
"I have two 50,000-square-foot buildings that are 100 percent occupied by local firms," Karam said. He bought his third building, which is 100,000 square feet, from Travelers Insurance, which reduced its footprint and now leases 40,000 square feet from First Bristol. "We're at 75 percent occupancy in the remaining space, up from 40 percent in just one year. It's been going quite well," he said.
For its part, Amazon, which did not respond to requests for comment, is expected to hire 500 people when its $36 million warehouse opens this fall. The Trammell Crow Co. is developing the project on 77 acres in the SouthCoast Life Science & Technology Park, one of three municipally owned industrial zones. It is a 10-minute drive north from Fall River's downtown.
The city worked with the state to make the zones as attractive as possible: expediting development approvals, for instance, and improving site access by securing federal funds to build a new highway interchange off Route 24, which opened in 2012.
"The only permits that Amazon had to get were building permits," said Michael DiGiano, an executive vice president with NAI Hunneman. Cathy Minnerly, another NAI executive vice president who is also a principal, added, "The fact it was shovel-ready was a very large point."
Shortly after the deal was announced in November, Fall River's redevelopment agency moved forward with rehabilitating Old Second Street, a 1960s-era pedestrian mall in the heart of downtown, by hiring an architectural firm based in Boston, Brown, Richardson & Rowe.
The revival of this corridor fits neatly with the agenda of Fall River's newly elected mayor, Jasiel Correia II. Since taking office in January, Correia has reinitiated a matching grant program for downtown building owners who want to improve their facades. He also has hired the marketing firm Penrose Commercial, based in Boston and Providence, Rhode Island, to plan a new strategy for selling vacant city-owned properties.
Correia, who turned 24 shortly before taking office, aims to create a live-work-play environment downtown. His goal is to attract young professionals who might be priced out of Providence, another former mill city nearby that has successfully reinvented itself.
"I understand the challenges people my age are facing, the desires and opportunities that they have and want," he said. "Fall River, a community with a lot of growth potential, is really prime for someone to take it by the horns and really start to develop it."
Developers are already doing just that. Construction began last fall on apartments within the mixed-use complex Commonwealth Landing. For investors Anthony Cordeiro, Larry Couto and Alan Macomber, this $18 million project represents the third and final phase of redeveloping a 228,000-square-foot waterfront mill building originally occupied by Quaker Fabric.
Cordeiro, Couto and Macomber bought the property at a bankruptcy sale in 2010. A combination of state and federal tax credits allowed them to construct offices, two restaurants and a training center for Bristol Community College within Commonwealth Landing's bottom two floors. The new 103 apartments within the building's top three stories will be the first exclusively market-rate multifamily housing built in Fall River for a generation.
Cordeiro hopes that the units' high-end finishes like granite countertops and amenities like an adjacent river walkway will attract millennials and empty-nesters once the project is complete early next year.
"We'll retain as much of the original flooring, ceiling and brick walls as possible," he said. "We're trying to raise the standards and get people who want to live and play all in the same area."
Work to remove an unsightly tangle of ramps that blocks downtown waterfront views should also finish in 2017. The $197 million project aims to reconstruct the interchange between Interstate 195 and State Route 79. The city also hopes to receive state approval this spring for $80 million for design and construction to reconfigure Route 79 just north of downtown, which would further improve harbor access and open 10 acres for mixed-use development.
"If you lived in the city before, you always dreamed about it," Cordeiro said of this redevelopment activity and the potential for more, "but now we're living it."