Local News
The 'absurd' reason Boston can't lower speed limits on its own
A state law keeps the city from easily changing limits to below 30 mph.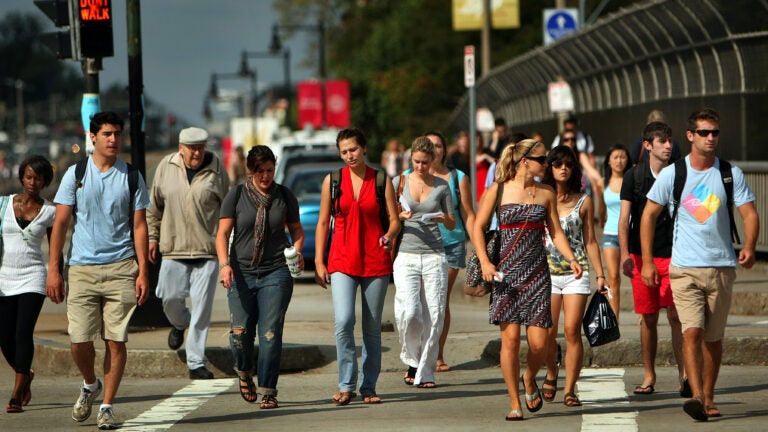 Boston City Council member Frank Baker filed a proposal on Wednesday to lower the speed limit on most Boston streets from 30 to 20 mph. But Boston, like all municipalities in Massachusetts, is not allowed to set its own speed limits thanks to what one expert called an "absurd" law.
State law requires that "thickly settled areas," like much of Boston, have required speed limits of 30 mph, unless a posted sign says otherwise. In order to post a sign with a different limit, a city and Mass. Department of Transportation must study vehicle speeds in the area. The traffic study would observe vehicle speeds over a period of time, and then set the limit "at or below [the speed] which 85 percent of the motorists travel."
But setting a speed limit solely based on the 85th percentile of driver speeds is "absurd" in an urban area with pedestrians, bicyclists, and neighborhood residents, says Peter Furth, a Northeastern University professor of civil engineering.
"The study requirement comes from a policy that says the speed limit should be based on how fast people are actually driving," Furth said. "That is the thing that is utterly ridiculous."
That policy, he said, was put in place to stop local cities from creating speed traps, but that is less of a problem in the state today.
"Speed limits should be set based on the needs of the vulnerable users of the road," Furth said. "On city streets, drivers are not aware of the dangers they pose to kids, elderly people crossing street, cyclists, and other vulnerable users of a street."
Indeed, Baker's proposal put before the City Council on Wednesday doesn't just ask to lower the speed limit to 20 mph. It also says the traffic study requirement is "burdensome and cost prohibitive" for Boston, and proposes that Boston's Commissioner of Transportation be authorized to change the speed limits without requiring a study.
"My number one constituent complaint is the need for lower speed limits and traffic calming measures," Baker said, according to The Boston Globe. The bill comes about a week after a pedestrian was injured in a hit-and-run in Back Bay by drivers who were reportedly drag racing.
Lowering the speed limit to 20 mph would have major safety implications in Boston. Daniel Dulaski, a Northeastern University civil engineering associate teaching professor, said studies show that drivers going 20 mph speed limit are almost twice as likely to yield to pedestrians as drivers going 30 mph.
"It's about time someone is taking a stance on neighborhood living and livability," Dulaski said. "Twenty miles per hour makes a lot more sense from a safety perspective."
In addition, crashes with pedestrians are less serious at slower speeds. At 30 MPH, about 50 percent of crashes end in fatality or serious injury, compared to just 18 percent at 20 MPH, according to research from Foundation for Traffic Safety.
The proposal was referred to a committee for a public hearing, The Boston Globe reports. In order to become law, it would need to get majority support of the City Council, signed from Mayor Marty Walsh, and approved by the state legislature.
The Mayor's office, in the midst of developing a "Vision Zero" plan to eliminate fatal and serious traffic crashes by 2030, sounded open to the proposal.
"Lowering speed limits is one of many tools we are looking at through our Vision Zero action plan to create safer streets in Boston," Walsh said in a statement. "I look forward to reviewing Councilor Baker's proposal."
Dulaski and Furth said the city should also consider making physical changes to streets in order to slow traffic. Adding speed humps, narrowing lanes, and adding four-way stops would all help lower speeds of vehicles in Boston.
"Streets have to be designed so speed limits are self-enforceable," Furth said. "Drivers sort of look at their own [view] and, based on what they see, decide how fast to go."