Local
Famed Harvard plaza will be closed on Monday until 2018
The recognizable spot is getting a makeover.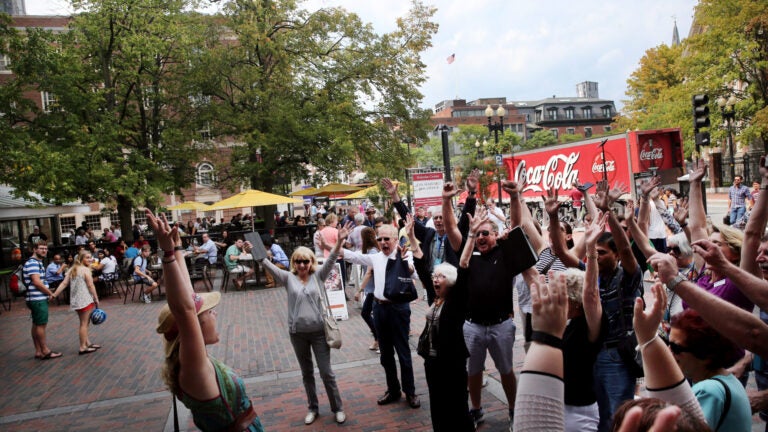 The bustling public plaza in Harvard Square is dead as we knew it.
Forbes Plaza, across from Harvard University, will be fenced off and closed on Monday as it undergoes renovations, Harvard spokeswoman Brigid O'Rourke said. The plaza is expected to reopen to the public in fall 2018.
The installation of the fence will be the final blow to the spot, which had been a center of activity, chess-playing, and people-watching right by the Harvard MBTA station.
The Au Bon Pain that stood sentinel in the square, featured in Good Will Hunting, closed on Thursday after 32 years in business. In addition, the large shady trees that sheltered the plaza are gone, cut down to stumps, The Boston Globe reports.
The five chess tables drilled into the ground will be removed over the next couple of weeks, O'Rourke said.
A big reason the Au Bon Pain patio/Forbes plaza felt like an oasis in Harvard Sq was these huge trees, now cut down. pic.twitter.com/GVBcQ4708h

— Amanda Katz (@katzish) April 1, 2016
The changes are all part of Harvard's controversial renovations, which have roiled local residents perturbed by the remaking of one of the most popular spots in Cambridge. Harvard, which owns Forbes Plaza, plans to remake the Smith Campus Center  and create a glass enclosure that extends four feet into the plaza.
Those chess tables had become "fragile and in poor condition" and may not be salvageable, O'Rourke said.
In the meantime, the university will add five moveable chess tables by the Out of Town News kiosk in the middle of Harvard Square, and another table to the nearby plaza on Mount Auburn Street.
There will be more options once the renovation is complete. Harvard plans to install five new chess tables when the plaza reopens in 2018 as well as outdoor lighting to keep the games going into the night, O'Rourke said. Harvard will also put five additional chess tables inside the renovated Smith Campus Center and four others at the Mount Auburn Street plaza.