Local
2 killed after tree crushes BMW in Abington
Both snow and wind advisories were in effect Sunday morning.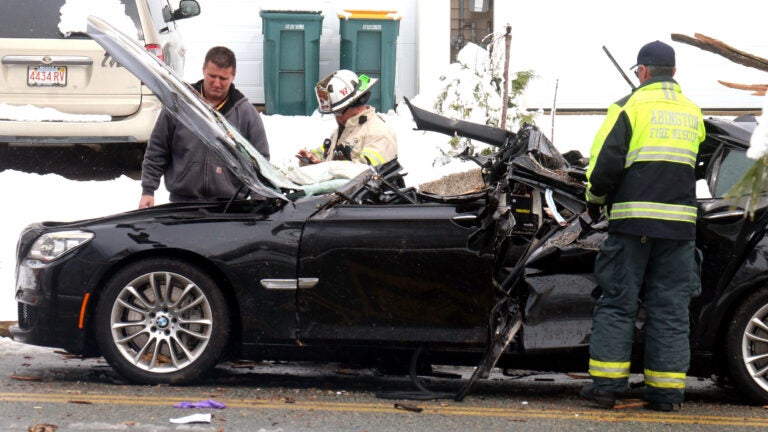 Two people were killed after a tree fell on top of their car while they were driving Sunday morning in Abington.
According to Abington Fire Chief John M. Nuttall, fire personnel found a 49-year-old man and a 51-year-old woman both "heavily entrapped" inside their car in front of 257 Rockland St. around 10:15 a.m. Authorities later identified the victims as Franklin Teixeira and Manuela Teixeira, a married couple from Whitman, The Boston Globe reported.
After requesting an additional ambulance and the Jaws of Life, both individuals were extracted from the car, a black BMW 750Li sedan, and transported to South Shore Hospital. However, Nuttall said, they both later succumbed to their injuries.
According to an Associated Press report, the occupants were driving down Rockland Street when the rotted tree fell onto their roof.
Officials were withholding the identities of the deceased Sunday while family members were in the process of being notified. Nutall said neither of the individuals were residents of Abington.
The National Weather Service issued a winter weather advisory and a high wind warning Sunday morning across southeastern New England.
"I would assume it was the wind conditions earlier today," Nuttall said Sunday afternoon in a press conference, when asked what caused the tree to fall.